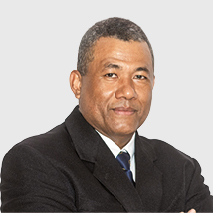 Name: William May
Email: william.may@fnu.ac.fj
Position: Dean College of Medicine, Nursing & Health Sciences
Other Position(s) Held: Appointed Council Member
Section: College of Medicine, Nursing & Health Sciences

Prior to joining FNU in 2009, Doctor May held Senior Medical positions at the Ministry of Health and Medical Services (MOHMS) for fourteen years before taking up teaching positions at the Fiji School of Medicine and FNU.
While working for MOHMS, Doctor May has served as Coordinator of the Adult Rheumatic Heart Disease, Open Heart Team, member of the committee responsible for updating the latest Fiji National Cardiovascular and Respiratory Guidelines.
He served as an Assistant Professor in Internal Medicine, Deputy Head of Department and Acting Head of Department for the School of Medical Sciences before taking up the position of the College Dean.
Prior to being appointed as Dean, he was involved with undergraduate and Postgraduate Teaching, postgraduate clinical research supervision and consultancies across Pacific Island Countries.
Dr May commenced his role as Acting Vice-Chancellor on Wednesday, 9 September 2020.
He is a member of the Medical Deans Australia & New Zealand, member of the Fiji Medical Council & Fiji Dental Council. He is ex-chair the Board of Management of the Fiji Medical and Dental Secretariat.
Other Professional memberships include Internal Medicine Society of Australia and New Zealand, Vice President of the Internal Medicine Organization of the South Pacific Executive Committee and member of the Fiji College of General practitioners.
Qualifications:
MMBBS, University of the South Pacific, Fiji
Postgraduate Diploma Internal Medicine, Fiji
Masters in Internal Medicine, University of the South Pacific, Fiji
Graduate Certificate In Medical Education, Fiji National University
May William, I.Senitiri: Guillain-Barre Syndrome associated with Typhoid Fever. A case study in the Fiji Islands, Pacific Health Dialogue Sep 2012 Volume 16 Number 2 pg 85-88
Fiji Respiratory Drug Guideline first edition 2008: Gyaneshwar Rao, Prof Robert Moulds, Alan Mamerto Garvez, William May
Pilot study of nurse led rheumatic heart disease echocardiography screening in Fiji -a novel approach in a resource poor setting: Samantha M. Colquhoun, Jonathan R. Carapetis, Joseph H. Kado, Benjamin M. Reeves, Boglarka Remenyi, William May, Nigel 1. Wilson and Andrew C. Steer, Cardiology in the Young ,October 2012, pp 1 7
Hypereosinophilic Syndrome: Case Report, Pacific Health Dialogue,Raniga D, May W, Tudravu L: Pacific Health Dialogue Volume 18 Number 2 page 125-129 2012
Fiji National Cardiovascular Therapeutic Guidelines 3rd Edition April 2015: Shrish Archarya, Gyaneshwar Rao, Anne Drake, William May, Sukafa Matanaicake, Rosalina Sa'aaga-Banuve, Margaret Cornelius, Tevita Baravilala, Emi Lewatoro, Crystal Yim Yim.
Common modifiable and non-modifiable risk factors of cardiovascular disease among Pacific Countries. www.scirp.org/journal/wjcs World Journal of Cardiovascular Surgery, 2016, 6, 153-170, Masoud Mohammadnezhad, Tamara Mangum, William May, Joshua Jeffrey Lucas, Stanley Ailson.
Medical students perceptions of clinical skills teaching at the College of Medicine Nursing and Health Sciences, Fiji National University, 2014. Dr William May, Masoud Mohammadnezhad Fiji Medical Journal Vol 24 No2 2018.
Pacific Islands Obstetrics and Gynaecology Workforce and Survey of Workload and Training Needs: Alec Ekeroma, Savannah Gilheany-Black, Rajat Gyaneshwar, Glen Mola, William May, Tim Kenea Pacific Journal of Reproductive Health Vol1 No 9 2019.
Research Interest:
His current research interests are in rheumatic heart disease in Fiji, Medical Education, Human Resources for Health

Teaching Interest:
Medical Education and Assessments
Clinical Teachings for Health Professionals
Internal Medicine at Undergraduate and Postgraduate with a special interest in Cardiology