Waqawai is keen to undertake media studies at FNU 
Press Release Posted On: October 11, 2021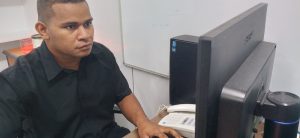 Being open to learning and having the passion to advance his career in the media industry were the driving factors that led Tomasi Waqawai to participate in the Fiji National University's (FNU) recent 2021 Virtual Open Week.
21-year-old Waqawai is a Program Director at Mai Television Limited. He was among the thousands of online users who took advantage of FNU's online virtual platform to get an insight into the programmes that ties with his interest.
"Growing up, I always admired those who are well-established in the media field. It was the icing on the cake when I received an opportunity to work for the mainstream media. However, I always desired to learn more," said Waqawai.
The former Assemblies of God High School student registered and joined the FNU's College of Humanities and Education (CHE) live zoom session to enquire about the many programmes offered by the University.
He was thrilled to discover that FNU's Bachelor of Media and Communication programme is aligned exactly with what he wants to learn.
"The Bachelor of Media and Communication captivated my attention as we were informed through the virtual platform that this particular programme focuses on communication theory, approaches to communication, journalism, history and law of media, media ethics, writing for different media, digital media and the internet, and public relations."
"This seems like an all in one package type of programme where students will have coherent and comprehensive knowledge in media and communication," Waqawai stated.
"We were also informed by the FNU's academic staff that this programme provides the opportunity to gain knowledge in the production and functioning of different media in society, to build practical skills in designing media products, and to develop advanced critical and thinking skills," he added.
The aspiring media specialist thanked the Fiji National University (FNU) for organising a platform to have student's queries answered, despite the demanding situation of not being able to invite students physically to the FNU Campuses, due to the restrictions.
"The staff were very welcoming and friendly and they took out time to provide every detail to queries in relation to my programme choice."
Waqawai is optimistic about joining FNU as a Bachelor of Media and Communication student next semester.
The Bachelor of Media and Communications is a three-year programme offered by the FNU's College of Humanities and Education at the Nasinu Campus.
High school students and those interested in learning more about the programmes, facilities and application requirements at FNU can register and participate in the livestream sessions during the University's Virtual Outreach Activities (VOA) by emailing outreach@fnu.ac.fj or call the Outreach team on 931 7582.