Wainiqolo excited to begin his tertiary journey at FNU
Press Release Posted On: February 3, 2020

To familiarise himself with the new study environment and meet fellow students, trainee teacher Jale Wainiqolo made sure that he attended the Fiji National University's (FNU) Orientation session at Natabua Campus, Lautoka last week.

Nineteen-year-old Wainiqolo, who is from Vanua Levu, said arriving at the Campus early and settling in was an important first step towards achieving his academic goal.

"The Orientation session provided me with an opportunity to ask questions and familiarise myself with the Natabua Campus. I wanted to take advantage of this opportunity because I will be able to listen to the presenters and gain much knowledge about studying at FNU," he said.
The former Holy Family Secondary School student has enrolled in FNU's College of Humanities and Education (CHE) to study Bachelor of Education (Secondary) in Mathematics and Physics.
According to Wainiqolo, most students consider Physics as a complicated subject, but he wants to make the subject enjoyable and exciting for students.

"As a physics teacher, we are responsible for imparting an understanding of the physical universe and its properties to students."

"The physics teacher holds the key to the understanding of the universe; therefore, the physics teacher is a student's passport to the wonder of science," said the science fanatic.
It was always a dream for Wainiqolo to become a teacher, as he is passionate about imparting his knowledge and skills that are necessary for individuals to become productive and responsible citizens of society.
"As a physics teacher, I want to provide opportunities for students to develop critical thinking skills that are valuable in any future career," he said.
While welcoming the trainee teachers, FNU Vice-Chancellor Professor Nigel Healey assured students that the University family is ready to assist newcomers in completing their academic journey successfully.
"All academic and support services staff are ready to guide you in achieving your academic excellence," he said.
Dean CHE, Dr Eci Nabalarua, emphasised to trainee teachers that it would take only three years to acquire, complete and graduate in respective Bachelor of Education programmes.

"It is for you to acquire skills and competencies to excel in literacy and numeracy and for teachers to embed in their teaching."

"Literacy and numeracy are big issues in education at the moment, and it's important that teachers here prepare you with programmes, skills and competencies to make sure that you are confident in handling literacy and numeracy when you go into the classroom," said Dr Nabalarua.
Classes commenced today at all FNU Campuses.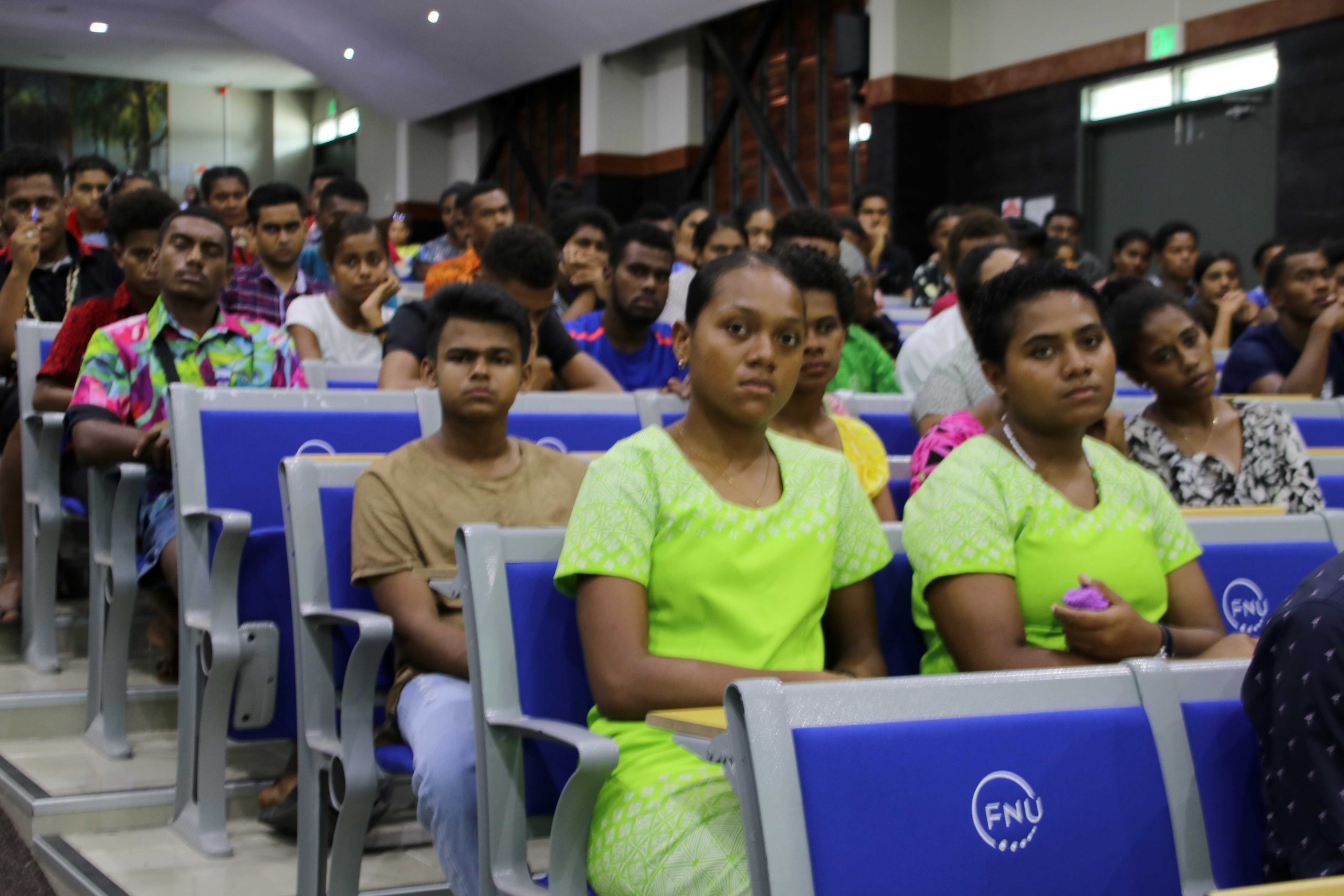 Aspirig teachers listening attentively during FNU orientation session at Natabua Campus Lautoka.