Upskilling key to career progression – Kumar
Press Release Posted On: October 4, 2021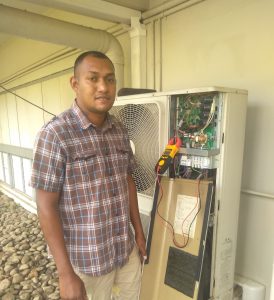 Upskilling oneself not only harnesses skill sets but also places you on the front foot for career progression. Such has been the fruitful journey of Ramjeet Kumar, whose passion for trade and education has led him to enjoy career success.
Kumar who currently works as a Service Technician at Fiji National University (FNU) is a firm believer in education. He completed five short programmes from FNU's National Training and Productivity Centre which has provided him with the necessary skill set to grow in the technical field.
"After high school, I chose to pursue a career in air conditioning and refrigeration. The first two to three years were challenging for me, but I continued, particularly during the difficult period of adapting to and learning the work. I was physically, emotionally, and financially prepared for the difficulties that were ahead of me. The beginning is critical because you will be expected to work hard, study, and develop your knowledge and experience." he said.
The father of two had climbed the ranks from junior to supervisory level. He is now grateful that the decision to upgrade his qualifications helped him succeed.
"Upon completing my short course, I started work at the Plantation Island Resort before joining FNU's Maintenance Department in 2013. At FNU, my duties include servicing, repairing, and maintaining all air units at the university's western campuses," explained Kumar.
"Upgrading my qualifications and competencies was a wise choice as I progressed in my profession. I also got my skills certified through Trade Test, which rewarded me with a promotion at work, from assistant tradesperson to a certified tradesperson, and finally to a supervisor."
According to Kumar, there is high demand for qualified tradespeople which is a plus point for students intending to undertake TVET courses.
"NTPC is constantly up to par with the industry, with the most modern tools and equipment that are utilised or introduced. They are also highly experienced in the area of the lectures, so they can explain and educate us what we need to know and anticipate when we go out into the working environment," he added.
"There is a high demand for tradespeople both in Fiji and abroad. I have established objectives for what I want to accomplish and achieve, and now I am actively working towards them, but it all depends on when the COVID-19 pandemic ends."
His advice to young people is to remain focused on their goals.
"Keep working hard, and learn through trial and error makes you stronger. Do not give up when you suddenly lack support. Instead, give it another try. Life is a journey, and it's our choice which journey we choose. And for me, it's education and upskilling myself."
So far Kumar has undertaken the following courses through NTPC Certificate of Attainment in Air Conditioning and Refrigeration, Certificate of Participation in Electrical Safety, National Trade Test Certificate 3, Certificate of Attainment in CCTV and Certificate of Attainment in Power Generation and Controls. He hopes to pursue a diploma programme at FNU next year.