TVET enhances productivity, reduces unemployment and supports various sectors – Hon Premila Kumar
Press Release Posted On: November 23, 2021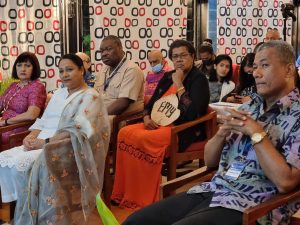 The growth of the Technical and Vocational Education and Training (TVET) skills are one of the drivers that support the economic transformation which Fiji needs, following the second wave of COVID-19 and major cyclones in the past twenty months.
Chief Guest and Minister for Education, Heritage and Arts Honourable Premila Kumar made this comment during the industry launch of the Fiji National University's (FNU) Technical and Vocational Education and Training – TVET Pasifika brand at Nasese Campus.
"For a small nation, such setbacks have impacts of much larger magnitude. In this situation, the Government relies on the business or the private sector to rebuild and drive the country's economy. Due to the downturn in the economy, Fiji needs to quickly create more employment opportunities," stated Honourable Kumar.
"The growth of the Technical and Vocation Education and Training (TVET) sector is crucial for the country, it will significantly expand human capital for Fiji which in turn would make us less reliant on specialist labour from foreign countries," she added.
The Government in the 2021-2022 National Budget announced 5000 new funded places for TVET courses at FNU through the Tertiary Scholarships and Loans Service (TSLS) and also allocated $1 million through the Re-skilling Fund to enable FNU to re-skill individuals who have lost their jobs since the start of the pandemic.
"The Government has also made an allocation of one hundred dollars per month for students on industry attachment. We often see that when students enrol for this programme they do not have enough funds to continue with industry attachment and they discontinue the course therefore I request the industries to come forward and partner with FNU."
Fiji National University's (FNU) Vice-Chancellor Professor Toby Wilkinson emphasized the critical need of TVET in post-pandemic economic recovery, which is as important as excellent Higher Education for the future success of Fiji and other Pacific island nations.
"We are committed to putting our students at the heart of everything we do; to working together with students, employers and development partners; to ensuring that our TVET programmes are future-focused, entrepreneurial and innovative; and to tailoring our offer to the needs of the post-pandemic economy and the opportunities of the 21st century," stated Professor Wilkinson.
The Vice-Chancellor further added that TVET also has a crucial role to play in providing educational opportunity, reducing inequality, filling skills gaps, and supporting sustainable economic growth – especially in rural and remote communities.
"At FNU, our primary focus is on education for employability, providing our students with the skills, experience and competencies to enjoy fulfilling careers. We are committed to ensuring that our students are highly employable and 'work ready' the day after graduation," he said.
"FNU has unrivalled experience and a proven track record of delivering TVET aligned to labour market needs. We also continue to strengthen our learning and teaching through the international accreditation of our programmes, investing in our staff, and enhancing our campuses and facilities."
Fiji Commerce and Employers Federation Chief Executive Officer Kameli Batiweti commended FNU for its strong commitment to offering TVET programmes that assist business operations and also encourage entrepreneurship.
"Often people rely on the higher education for a successful career. Let me assure you that the skills attained through the Technical and Vocational Education and Training (TVET) can also take graduates to greater heights, they can even earn more than graduates of the higher education," said Batiweti.
FNU's TVET Pasifika brand brings together the full range of TVET programmes offered by FNU in a single, dedicated space. It is a one stop TVET Information Centre where students and employers can browse, research and enrol on technical and vocational education and training programmes that meet their specific needs, helping them boost their employability and fulfil their personal and professional aspirations.