TVET – affordable, shorter duration and job-ready option says Seth
Press Release Posted On: July 20, 2021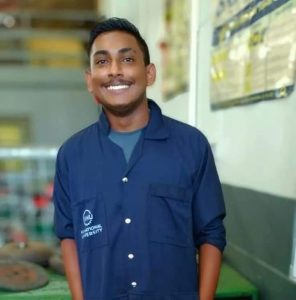 While pondering on his career choice for one last time before completing the admission form, Raynal Seth opted for the automotive engineering profession.
Seth, a pure arts student in high school said he had various career options to consider and decided to follow his passion and pursue a career in the automotive industry. Hence, the young man from Rakiraki enrolled in the Certificate IV in Automotive Engineering (Heavy Mobile Plant) programme.
This is a two-year programme offered by Fiji National University's (FNU) College of Engineering, Science and Technology (CEST).
"I was intrigued to learn that I could switch to an engineering career having met the requirements for admission into the programme. I've always had an interest in designing, repairing and constructing all types of automobiles, therefore, I consider this step as a wise career choice," said Seth.
"I believe this is the beauty of technical and vocational education and training (TVET) courses and careers. It gives opportunity to individuals from different subject and employment backgrounds to start afresh in the career of their choice and be able to compete in today's ambitious job market."
Seth, who is a private student, acknowledged FNU for being the only University to offer this programme with affordable tuition fees.
Seth is currently a trainee at Rattans Civil Construction Company Limited in Tavua.
"As an intern, I'm actively involved in conducting routine inspections with seniors, diagnosing faults and testing machinery, performing repairs and maintenance on a range of machinery to minimize downtime and meet maintenance schedules. I'm also responsible for installing new equipment or modifications to existing equipment while performing risk assessments on task."
"I feel proud to have acquired all these skills in such a short time through classes, practical sessions and attachment."
According to Seth, there were many interesting aspects of the automotive engineering profession and he described three as his absolute favourites.
"Firstly, my days are different – learning about new technology and just when I've finished one task, another new vehicle rolls in through the garage doors with a different issue. Variety is the spice of life!"
"Another exciting characteristic of this profession is that I do not have to be stuck behind a desk all day – I've never had a boring day since I started my attachment. The days have been busy with new challenges and learning every day."
"Finally, let me be realistic – I save some money by doing repairs on my car. Not bad, considering the average cost of a check engine light repair in Fiji is over $80."
After graduating from this programme, he plans to upgrade his qualifications to Diploma in Automotive Engineering from FNU.
Students who are interested in the TVET stream programmes can learn more by visiting https://www.fnu.ac.fj/tvet-pasifika/ 
For all details relating to Admission and Enrolment please email: pritika.m@fnu.ac.fj
For all queries related to programmes, please email: rohitkkishore@gmail.com