Tubuna graduates from Land Surveying studies at FNU
Press Release Posted On: January 14, 2022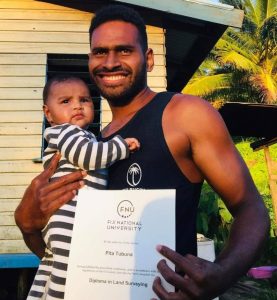 Fiji National University alumnus Pita Tubuna believes the University provides tertiary education and courses that are suited to everyone's interests and 'leaves no one behind'.
Tubuna, 23, graduated in August last year from FNU's College of Engineering, Science and Technology (CEST) with a Diploma in Land Surveying. The Diploma programme is a Technical and Vocational Education and Training (TVET) course offered by the College's School of Building and Civil Engineering.
From Mataikadawa Settlement in Serua, Tubuna said he opted to undergo studies at FNU as it provided the necessary graduate attributes he needed to excel in his professional endeavors.
"The effective learning techniques I gained at FNU allowed me to gain the skills and confidence in my field of work," he said. "I know this will also be an advantage to me throughout my career and personally as well."
"Campus life was also an added experience that was a balance of fun and excitement and taking time out for tutorials and assignments."
"I was easily able to transition into the tertiary learning environment and enjoyed university studies alongside my companions and lecturers."
Tubuna said a few highlights from his TVET learning were field trips to the Vaturu Dam, gathering survey plans at the Ministry of Lands and Mineral Resources for study purposes and re-surveying the Derrick Campus boundaries.
The programme also equips students with knowledge in the areas of Survey Law and Regulations, Surveying Practice, Technical Communication, Engineering Mathematics, Hydraulics and Subdivision Design, Topographical and Cadastral Surveying, Valuation for Surveyors, Introduction to Geodetic and GPS Surveying and Engineering Survey Practice.
Tubuna highlighted that time management and the support he received were crucial factors in successfully completing his studies.
"My siblings, family, friends and lecturers gave me the motivation I needed during my studies, including my girlfriend Ro Salanieta, who is also undergoing her Bachelor in Urban and Regional Planning at FNU," he said.
"I now look forward to entering the workforce and over time become a Registered Surveyor and build on my experience and knowledge base."
Tubuna said 15 August 2021 was a date of double celebration for him – as it was the day his daughter was born, as well as receiving his graduation certification via email from FNU.
He encouraged Year 12 and 13 students, and others interested in TVET studies at FNU to undertake the Land Surveying course or other programmes suited to their career ambitions.
Students completing or have completed Year 12 or 13 have the opportunity to undergo Semester 1, 2022 studies in the Diploma in Land Surveying or any other TVET course at FNU through the 5,000 Tertiary Scholarships and Loans Service (TSLS) placements.
Continuing students of an FNU TVET course are also eligible and can apply for the placement.
Offered through the University's TVET Pasifika, these courses are Certificate III, Certificate IV and Diploma level qualifications.
Students eligible for TSLS-funded studies must have successfully completed Year 12 with a minimum mark of 200/400 or completed Level I and II studies from the Technical College of Fiji.
Applications for Semester 1, 2022 studies at FNU are now open.
Students can visit our website on www.fnu.ac.fj to learn more about our programmes and submit an online application.