Tonganibeia aligns career goal to national needs
Press Release Posted On: January 5, 2022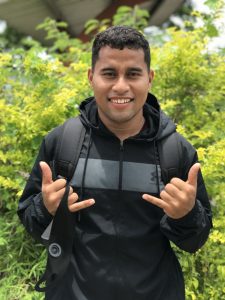 For Joseph Tarataake Tonganibeia, being able to contribute to his country's infrastructure development amidst the effects of climate change was a key factor in his study and career ambitions.
From the Republic of Kiribati, Tonganibeia experienced first-hand the detrimental effects climate change had on the low-lying island nation. Combining this with his childhood passion for the building industry, Tonganibeia decided to enrol at the Fiji National University (FNU) in the Diploma in Architectural Drafting.
Offered by FNU's College of Engineering, Science and Technology (CEST) at the Derrick Campus in Samabula, Suva, the three-year programme prepares students technical posts and in assisting and supporting project officers, architects, and other senior officers in the architectural drafting field in the preparation of various types of project documentation.
The programme also provides students with drafting knowledge, skills, technical knowledge of materials, regulations, building codes, bylaws and other standards used locally and abroad.
Tonganibeia, 21, said this aligned with his ambitions as he wanted to contribute to his country through green and sustainable building designs.
"I want to help my country develop whilst bearing in mind the effects of climate change," he said.
"I always wanted to be in this industry since I was a child as my dad was a carpenter and I would always follow him to his workplace," he shared.
"Starting my studies at FNU in 2019 was an eye-opener for me as the tertiary experience is different to your high school experience. I'm glad though that I was able to easily adapt as the academic and support staff at FNU were approachable and made sure that you were provided, or made aware of, the resources and services available to us during our studies."
"There were also campus life activities that allowed me to build networks and friendships whilst still representing my country and heritage. One such event for me was during the Cultural Night function by FNU's medical students, where I was able to be the flag bearer and showcase my country's traditional dances to a large audience."
Reflecting on his studies raised a lot of key highlights for Tonganibeia, who said a key achievement was during a project presentation in his first year.
"During this project, we were put in groups with students from other courses as well and required to make a model of a building," he said.
"Seeing all the models being built and presented made me proud of our team's model and made me appreciate the various skills and talent everyone possesses."
"Through this course, I have enhanced my skills in this field through the lectures from skilled professionals and the industrial attachments during the courses. Since I have completed my studies this year, I am eager to apply my knowledge by working in the industry."
Tonganibeia acknowledged his parents and friends for the continuous support and encouragement he received during his tertiary studies at FNU.
He also plans to continuously upskill his qualifications in his field of work.
"It takes a lot of effort and dedication, but if you set your mind to it you will be able to achieve anything," he shared as an encouragement to other current and prospective FNU students.
Students completing or have completed Year 12 or 13 have the opportunity to undergo Semester 1, 2022 studies in the Diploma in Architectural Drafting or any other TVET course at FNU through the 5,000 Tertiary Scholarships and Loans Service (TSLS) placements.
Continuing students of an FNU TVET course are also eligible and can apply for the placement.
Offered through the University's TVET Pasifika, these courses are Certificate III, Certificate IV and Trade Diploma level qualifications.
Students eligible for TSLS-funded studies must have successfully completed Year 12 with a minimum mark of 200/400 or completed Level 1 and II studies from the Technical College of Fiji.
Applications for Semester 1, 2022 studies at FNU are now open. Students can visit our website on www.fnu.ac.fj to learn more about our programmes and submit an online application.