Students central to FNU website revamp
Press Release Posted On: September 1, 2020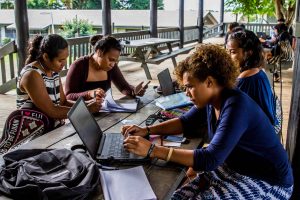 Involving prospective and current students in the revamp of the Fiji National University's (FNU) website ensured that all relevant information and resources needed were captured and contained online.
Acting Vice-Chancellor, Tessa Price, said it was important that the main component of a learning institution – its students – also had their input.
The recommendations by students were incorporated into the new FNU website that was launched last week by Price.
"The most important page on our website is the Study page and this was done hand in hand with our prospective students. They told us what they wanted to see," she said.
"We've designed the information regarding our programmes in a manner that is easy for students to access and navigate so that they are able to view content on programmes, campus, fee payment plans and other student learning and support services."
"We also have a student life page where you can find out what being a new student is all about. You will find support services listed here as well and we have our application page which is very easy to navigate."
The Acting Vice-Chancellor highlighted that focus groups undertaken with prospective students revealed that they searched for programmes using the relevant College as their starting point.
"We did consultations with the students whereby we put the programme list very prominently on the home page yet they navigated to the Colleges and looked through the programmes under Colleges," she said.
"So now our programmes listing features on the main home page and we also have a dedicated Colleges tab, whereby the programmes are then grouped under the college it is offered at."
"Other information on the Colleges such as campus locations, tours and academic staff are available to students to access."
Price added that the website also had a 'Why choose FNU' page that was done in collaboration with current students and contained information on why they chose the national university.