Solar energy powering FNU Namaka Campus
Press Release Posted On: August 21, 2020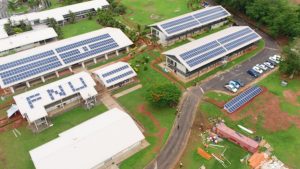 Up to eighty percent of Fiji National University's (FNU) Namaka Campus in Nadi will now be powered by green energy, following the commissioning of a 250 kilowatts solar project.
Acting Vice-Chancellor Tessa Price, while officiating the first large scale green project, said it's a forward-looking initiative which is expected to be replicated in other campuses in the future.
Price launched the 250 kilowatts solar photovoltaic (PV) plant with roof and ground-mounted systems to generate clean energy and minimise expenditure.
The project was commissioned in June 2020, and the ground-mount system is specifically set-up to provide students with an opportunity to learn more about how the system works.
"The set-up has a built-in online monitoring system for viewing production and system details in real-time. Software designed specifically for this project, also a first in the region, is being used for presenting the technical information in easy to understand language," said Price.
The project is deemed to be self-funded with an expected return on investment of eight years.
"Use of solar reduces energy costs and helps with the environment by lowering greenhouse gas emission and therefore tackle climate change. This project supports our national priority on sustainable development initiatives and renewable energy sources," said Price.
The green energy concept will be incorporated into FNU's future capital projects to promote sustainable development.
"FNU's sustainable goals will be achieved by working with our stakeholders, and that is our students, staff, communities and all those connected to the university," she said.
FNU's Director, Capital Projects and Infrastructure, Niranjwan Chettiar, said a Master plan for all campus development had been undertaken with significant emphasis placed on sustainability and climate resilience.
"The road for sustainability for the University has just started. We will build on this milestone and push forward on addressing the global challenge of climate change. The University is already taking measures to ensure the developments undertaken uses the best sustainable practices as possible," he said.
Chettiar highlighted that another 130 kilowatts solar PV system is being installed at the Fiji Maritime Academy's newly constructed building in Nasese, Suva.
"FNU has installed smart systems in its newly constructed buildings to ensure efficient use of energy which include smart air conditioning systems, energy-efficient lighting systems, and use of occupancy sensors etc.," he said.
CBS Power Solutions Fiji Ltd undertook the Solar project at Namaka Campus.