Skills learned at FNU fast-tracks job opportunity for Vikrant
Press Release Posted On: December 2, 2021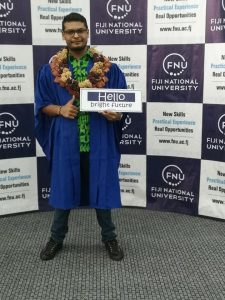 Shanel Vikrant has always been focused on gaining trade skills and the option of obtaining industrial experience along with formal education. After much research, he decided to join the Fiji National University (FNU) given its strong reputation in producing quality Technical and Vocational Education and Training (TVET) graduates.
Vikrant joined FNU through the Apprenticeship Scheme in 2016 following his short stint as an inventory clerk at Vision Motors. It was then that Vikrant undertook a placement at British American Tobacco.
He believes that the industry attachment has enhanced the value of his certificate programme, build his self-confidence, prepared him for the job market and ultimately enabled him to achieve his ambitions.
"My education and practical experience at FNU was a significant milestone in my life which marked the beginning of my work life and has also made me more marketable."
Presently, a Technical Operator with the same institution, the 26-year-old alumnus is in charge of daily operation, servicing and maintenance of plant and utilities.
It was Vikrant's love for learning that later led him to join FNU's College of Engineering, Science and Technology (CEST) to pursue Certificate IV in Plant Maintenance programme. This not only enabled him to develop relevant technical, vocational and interpersonal competencies suitable for employment but also helped him be successful in his ever-evolving career path.
He graduated from FNU in 2020. A year later, the proud alumnus fondly remembers the time spent at the university and the impact it has on his life.
"FNU has a diverse and inclusive culture that fosters learning and development. When I think back on my FNU experience, the level of support I received during the learning phase is incredible. I am fortunate to be a graduate of the Fiji National University."
"I highly recommend prospective students to explore skill-based learning areas which have a large scope in the job market. The demand for skill-based workers has always been there, and TVET will continue to play a crucial role in future as well. I did not go through the stress of finding employment, instead, I was paid during my internship and my fee was taken care of therefore it would be wise to say that getting enrolled on a skill-based learning programme is the best decision I have ever made," Vikrant said.
Offered through the University's TVET Pasifika, these courses are Certificate III, Certificate IV and Trade Diploma level qualifications. Students eligible for TSLS-funded studies must have completed Year 12 with a minimum mark of 200/400 or completed Level 1 and II studies from the Technical College of Fiji.
Prospective students can choose from a wide range of TVET courses offered by the University in various fields of study, including Engineering, Medical, Tourism and Hospitality, Entrepreneurship, Fashion and Design, Cooking and Patisserie, Carpentry, Construction, Graphic Arts and Design, Film and Television Production, Hairdressing, Automotive, Electrical and Electronics.
For more information regarding our TVET Pasifika programmes, the 5000 available TSLS placements and the FNU and TSLS application process, visit our website at www.fnu.ac.fj/tvetpasifika/ or contact our outreach team via email at outreach@fnu.ac.fj