Siwan fulfills mother's dream
Posted On: August 27, 2020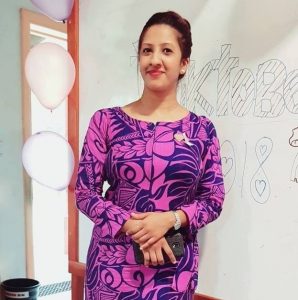 Influenced by her mother, young Shivani Siwan set her mind to pursue a career in nursing. Siwan said her mother encouraged her to join the noble profession, given the role nurses play in caring for the sick and being an advocate to a healthy lifestyle and living.
"My mother always told me that nurses are very important people. She made me believe that when you're a nurse, you know that every day you will touch a life or a life will touch yours. Thus, I started imagining my life as a nurse and dreamt of wearing the blue and white uniform that nurses used to wear back in the day."
Siwan was born and raised in Lautoka. She attended Saru Mahatma Gandhi Memorial (MGM) Primary School and Natabua High School.
After completing high school, she applied to study Diploma in Nursing at the Fiji National University's (FNU) College of Medicine, Nursing and Health Sciences (CMNHS). She was given a scholarship by the Public Service Commission (PSC) to pursue her studies in 2011.
"I was so happy that I got into the programme and more so that I received the scholarship. My mother was overjoyed, and seeing her happy made me more determined to achieve my goals."
Her tertiary education journey would bring a new set of challenges especially as Siwan had to step out of her comfort zone, and she prepare herself accordingly.
"I had never been away from home, and I knew the first time would be difficult. More so I knew that things at CMNHS would be competitive, I will have to put in an extra effort in my studies to complete the three-year Diploma programme."
"I had an amazing time at FNU. Once I adjusted to hostel life, I had a lot of fun. I was lucky to have roommates, who were my friends from high school. The memories I have from my time at FNU continue to be the best I've had in my life. Apart from the subject matter, I learnt a lot of important life lessons from my friends, peers, lecturers, nurses and patients as well."
Siwan graduated in December 2013. Her first posting was at the Lautoka Hospital in February 2014 as a Registered Nurse. She worked here for one and a half years before being transferred to the Viseisei Sai Health Centre (VSHC) where she was the Community Health Nurse.
"My job was to work in partnership with the community to promote health and wellness. I did home visits and provided patient care and support as well as health education and promotion."
While working, she pursued a Bachelor in Nursing at the Sangam School of Nursing as a part-time student. She completed the programme in one year and graduated in 2017.
After serving three years at VSHC, she decided to move to New Zealand in 2019.
Siwan worked at the Senate Nursing Bureau as a Health Care Assistant immediately after moving to New Zealand. After one year, she joined Auckland Uniservices (University of Auckland) as a Clinical Assistant, a position she currently holds.
"I work for the Centre for Advanced Magnetic Resonance Imaging (CAMRI) at The University of Auckland, which is the first Magnetic Resonance Imaging (MRI) venture in New Zealand. It focuses on high-end research work. We also do routine clinical imaging. CAMRI delivers MRI research expertise and resources to leading commercial and government organisations."
"It is the first time I am exposed to the MRI environment, and I find it very fascinating."
Siwan's advice to students is to understand that university life is a stepping stone towards a rewarding future.
"Try hard to make it a firm foundation so that it will serve you right no matter what direction your future path follows. Have patience, be kind, have fun and good luck."
Sharing her top three tips for graduates starting out in their career, she said, "Plan ahead and organise yourself. Be responsible and have an open mind (think outside the box) and be honest and truthful at all times."