Singh's unwavering dedication to Medicine inspires all
Press Release Posted On: January 10, 2023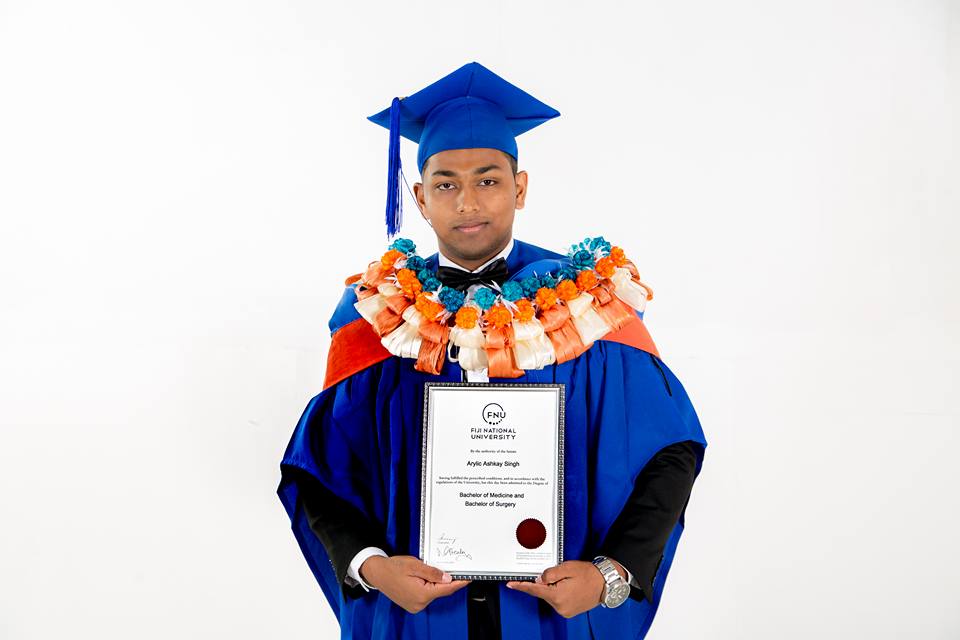 Dr Arylic Singh can attest to the fact that one's dreams can be achieved in various forms. The 29-year-old from Nabilo in Tailevu is a proud alumnus of the Fiji National University's (FNU), College of Medicine, Nursing and Health Sciences (CMNHS), and is currently pursuing his next ambition of becoming a neurosurgeon.
Dr Singh, the father of a two-year-old son, is currently based at the Lautoka Hospital as a Surgical Registrar and is eager to use his expertise to improve the health and well-being of Fijian people.
"Ever since I was a child, I dreamt of becoming a doctor, and one day, I shared my dream with my parents," he said with a beaming smile.
"To my delight, they became my staunchest supporters and greatest motivators, guiding and encouraging me every step of the way until I finally achieved my ambition of earning a Bachelor of Medicine and Bachelor of Surgery (MBBS). I'm so proud of what I've accomplished."
Dr Singh gained popularity on social media in Fiji during the second wave of COVID-19 with his informative videos posted on his accounts. He provided helpful information about a variety of issues and medical conditions in both English and the local vernacular languages.
"As doctors, it is essential that we ensure that the people are properly informed. I did my utmost to help people understand, and my videos were received positively by the people in our communities," he shared. "The noble profession of being a doctor is one that is highly respected and admired, as people entrust you with the responsibility to save their lives, as well as provide them with valuable advice that could improve their lives for the better in the long term."
"Brave soldiers fight on the frontlines to safeguard their people, while we, as medical professionals, battle illnesses such as COVID-19 and chronic diseases in order to ensure that our citizens can lead healthy lives and contribute to society."
Dr Singh acknowledged FNU for playing a pivotal role in helping him achieve his dream. "I am immensely grateful to FNU for giving me the opportunity to join the medical programme and helping me realise my full potential," he said.
"I have been truly impressed by the resources available at the College of Medicine, Nursing, and Health Sciences, which has all the necessary facilities to help students become professionals."
"The knowledgeable lecturers and tutors are incredibly supportive and are dedicated to preparing us for any future challenges we may face." He said with commitment and dedication, anything is possible."
Dr Singh said he realised this during his tertiary studies as he had to stay on campus and away from his home and familiar surroundings.
"Becoming a doctor is not easy, one has to stay true to his or her dedication and fully commit themselves to the studies. If you can dream big, then you can also achieve that. You will need to work overtime, do late-night studies, and sacrifice your leisure activities. But it will all be worth it."
FNU Roadshows
The Fiji National University will also commence with its Enrolment Drive Roadshows this week to assist students with their application and enrolment needs for Semester 1, 2023 studies.
Students, parents, guardians, and stakeholders can visit our Roadshow booths to obtain academic counselling, enquire about our programmes and entry requirements, submit their applications, and receive an Offer Letter if all requirements are met.
Click here for details on the Roadshow dates and venues.
For ease in admission and registration, FNU also has dedicated Enrolment Centres to serve new and continuing students at the Koronivia, Nasinu, Derrick, Ba, Natabua, Namaka and Labasa campuses. Students can visit these campuses to complete their application process.
For further information, students can visit our website at www.fnu.ac.fj, email the Academic Team via admission@fnu.ac.fj or Text (Toll-Free) 857 for Vodafone and Inkk users.