Sigatoka Methodist College Heads to pursue dream in the medical field at FNU
Press Release Posted On: July 6, 2023

Sigatoka Methodist College head prefects, Joel Chand and Sapna Reddy's dream is to join the medical field as a doctor.

The two head prefects of Sigatoka Methodist College wish to pursue a Bachelor of Medicine and Bachelor of Surgery (MBBS) at the Fiji National University (FNU).

FNU's Career Discovery for High School Students' team visited the prominent College in Sigatoka to educate and create awareness on the different career pathways and opportunities available at Fiji's national university.

The 18-year-old, Year 13 student from Kulukulu in Sigatoka, Chand said that he was grateful to FNU's team for visiting Sigatoka Methodist College to impart knowledge of the different career pathways and courses that available at the institution.

"I want to pursue MBBS at FNU; I learnt a lot from the presentations by the Fiji National University team- the presentations showed how we can enrol into these programmes for the betterment of our future," he said.

"Career awareness is so important, especially for us in Year 13, it allows us to become knowledgeable of the courses we can take in the various fields to become breadwinners for our families."

The teams conducted its high school visits at Ba Sangam College, DAV College, Ba Provincial College, Swami Vivekananda College, and the Sigatoka Valley High School today.

From Korotogo, Sigatoka, the Sigatoka Methodist College Headgirl, Reddy said she wants to reward her mother's sacrifices to fulfil her family's dream of becoming a doctor.

"I am the only child, and it is my family's dream of me joining the medical field, and most probably a Bachelor of Medicine and Bachelor of Surgery in the future, likely at FNU," Reddy said.

"We, the whole school, Sigatoka Methodist College, give a lot of gratitude to the FNU team that provided us with this vital information.

"The FNU visited our school and disseminated enough knowledge for us to understand whatever career paths we want to pursue and how to pursue it. We also learnt of the cut-off marks for the different programme and courses being offered!"

Sigatoka Methodist College Head of Department – Languages, Ifereimi Naruma added that the preparedness from FNU's team was applaudable.

"We are so thankful to FNU's Marketing team and representatives who visited the school today to create awareness on the various career pathways available for students, and we as teachers feel it is important for students to engage in this workshop and be well-oriented with their chosen career paths," Naruma said.

The 42-year-old, from Vatukarasa in Sigatoka has been teaching at Sigatoka Methodist College for the last eight years.

"I want to thank the Fiji National University committee because they are very well prepared, well-spoken, and most of their marketing strategies have and continue to have a great impact on the students; this is very much apparent in the students who are currently studying, and have graduated at FNU," he said.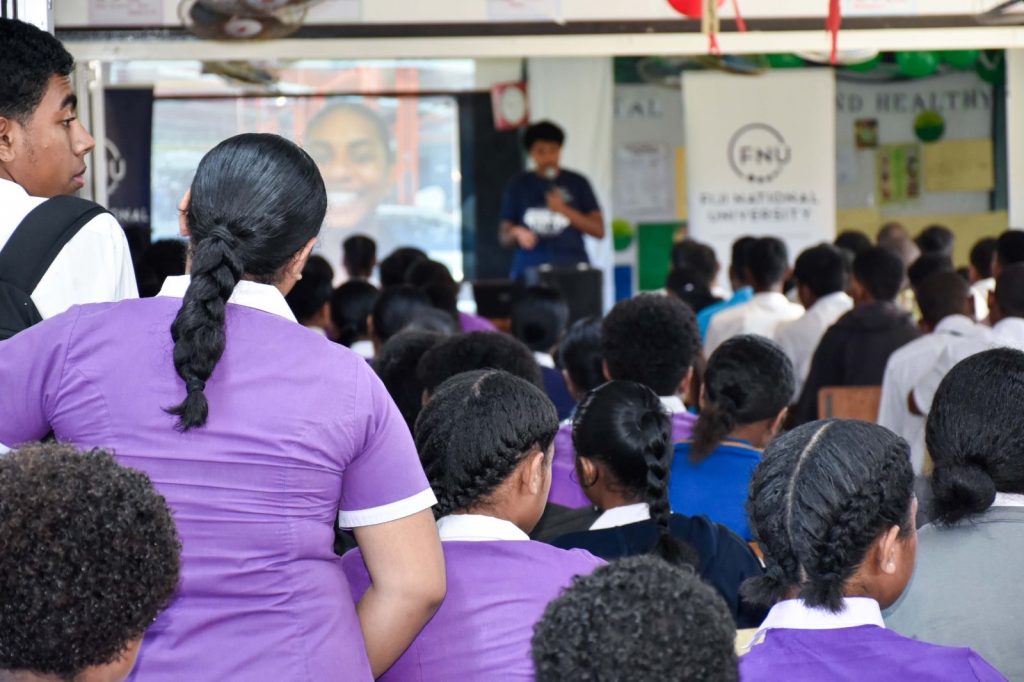 "Even though, I am not a FNU graduate, FNU has stepped up and are a great competitor to other Universities and campuses that were established here in our Pacific."
The high school visits commenced in the Central Division on 19-30 June. Our Career Discovery team will be in the Western Division from 3-14 July, and the Northern Division from 17-28 July 2023.
Virtual sessions will be conducted for maritime schools in the first week of August.