Secondary school teachers commend FNU's Virtual Outreach Activity
Press Release Posted On: October 20, 2021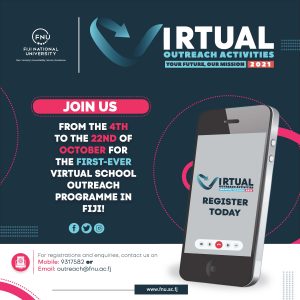 Secondary School teachers who participated in the Fiji National University's (FNU) Virtual Outreach Activity session today, complimented the University for going the extra mile to ensure prospective students are fully aware of the wide range of study opportunities offered by the institution.
Teachers from across the country including those from prominent schools such as Swami Vivekananda College, Suva Grammar School and Jai Narayan College to schools in maritime areas such as Yasawa North Secondary School and Beqa Yanuca Secondary School were part of the one-hour interactive session.
Beqa Yanuca Secondary School teacher Rusiate Yaranamua stated that the platform provided them with in-depth information on relevant areas such as entry to various programmes offered by the University and the duration of the programmes and courses.
"I would like to thank the Fiji National University (FNU) for organising such enlightening sessions for us, so we can convey the information to our students," said Yaranamua.
Jeremiah College Teacher Tarisi Tawake said the Live Zoom Session provided them with valuable and relevant information which they will use to guide students to make important decisions about undertaking tertiary education.
"Apart from engaging with academics through the chat platform, we were also able to go through the various Colleges under the Fiji National University through a video presentation. The presentation was comprehensive, which enabled us to fully understand the wide range of programmes and courses that FNU offers," stated Tawake.
Students completing or have completed Year 12 or 13 also have the opportunity to undergo studies in a Technical and Vocational Education and Training (TVET) course at FNU through the 5,000 Tertiary Scholarships and Loans Service (TSLS) placements.
Offered through the University's TVET Pasifika, these courses are Certificate III, Certificate IV and Trade Diploma level qualifications. Students eligible for TSLS-funded studies must have successfully completed Year 12 with a minimum mark of 200/400 or completed Level 1 and II studies from the Technical College of Fiji.
Prospective students can choose from a wide range of TVET courses offered by the University in various fields of study, including Engineering, Medical, Tourism and Hospitality, Entrepreneurship, Fashion and Design, Cooking and Patisserie, Carpentry, Construction, Graphic Arts and Design, Film and Television Production, Hairdressing, Automotive, Electrical and Electronics.
Interested participants can still register and participate in the Zoom sessions during the University's Virtual Outreach Activities (VOA) this week, from 19th to 22nd October, by emailing outreach@fnu.ac.fj or call the Outreach team on 9317582.
The sessions this week are scheduled for students, careers teachers and those interested in Higher Degree by Research (HDR) programmes.