Raratabu grateful to FNU
Press Release Posted On: March 22, 2023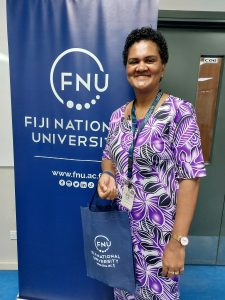 Ratu Navula College careers teacher, Alumeci Raratabu acknowledged the Fiji National University (FNU) for believing in her son and giving him a second chance, which led to his employment.
Raratabu shared her gratitude at the conclusion of the Careers Teachers Workshop at the Namaka Campus in Nadi last Friday.
The inaugural nationwide Careers Teachers Workshop is the first of its kind and is organised by the University to provide high school Careers Teachers with further insight and understanding of FNU's programmes, study pathways and application processes.
Her son, Kemueli Bakaniceva Raratabu, had turned to FNU's, Fiji Maritime Academy (FMA) for a second chance at completing his tertiary studies. She said the 20-year-old was now employed as a chef for Captain Cook Cruises Fiji after attaining certificates last year.
He completed his training course in Proficiency in Elementary First Aid, Proficiency in Personal Safety and Social Responsibilities, Proficiency in Fire Prevention and Fire Fighting and Proficiency in Personal Survival Techniques.
"I am really humbled to be part of this workshop organised by the Fiji National University," Raratabu said.
"It is an enlightening exercise because of the privileges for schools as far as Sigatoka, right up to Lautoka to be part of this workshop and to be able to inform the school and enlighten our students on the opportunities and second chances available, especially for our students who have left school and are planning a future for themselves."
"I am speaking also closer to home, as I also have a son who had recently done classes with FNU, preliminary courses, and is now fully employed thanks to FNU."
Nawai Secondary School principal, Navneet Mishra also thanked FNU for conducting the first-ever Careers Teachers workshop for high school teachers throughout Fiji.
"This is a milestone event and is encouraging, and very motivating. I think it is a good start to the year as we now return to our schools quite enriched with information to pass on to our students during careers classes," Mishra said.
The Careers Teachers' Workshop (CTW) is currently being held at the Nasinu Campus today, 22 March for teachers in the Central and Eastern Division, and at Naduna Campus in Labasa on March 24.
Teachers in the Maritime zones can also join the virtual session on April 7 from 9am to 11am.
For further information, interested participants can contact the Outreach Team at outreach@fnu.ac.fj