Ralulu excited to pursue TVET studies at FNU
Press Release Posted On: April 7, 2022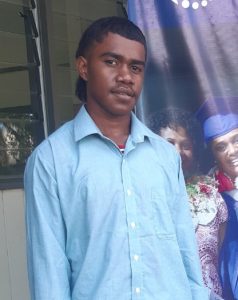 Savenaca Ralulu was initially unsure of what he wanted to study, however, discovering the importance of technical and vocational education and training (TVET) triggered his interest.
And being interested in making things and working with his hands prompted him to enrol in a Certificate III in Fabrication and Welding at the Fiji National University (FNU).
The twenty-one-year-old is pursuing his studies at Ba campus through FNU's College of Engineering, Science & Technology (CEST).
The Rakiraki native said that he chose to study fabrication and welding to learn how to assemble fabricated components to perform gas tungsten and arc welding.
"I like working with metal, and I wanted to do something practical, so fabrication and welding suited me since the course encompasses practical lessons," Ralulu said.
The former Nakauvadra High School student completed his secondary education in 2020 and took a break to explore his study options.
"I decided to pursue studies in a TVET programme because I couldn't just sit around, as I know that vocational and skills training will equip me with specific skills needed at the workplace."
"My studies here at FNU will provide me with a hands-on practical experience that will prepare me for challenges and opportunities that I may face at work. I am certain that my studies will build my confidence, and I will be job-ready when I graduate," he said proudly.
Ralulu said he opted to study at FNU because it is widely recognised and it has industry-standard workshops which reflect a real working environment.
"I researched and found out that this programme prepares me to enter the occupation of trade assistance and that I will attain knowledge and skills to gain employment in various welding occupations."
"The best part about the course is that it is offered at the FNU Ba campus, making it easier for me to commute from home," he said.
After completing his one-year programme, Ralulu plans to upskill and enrol in the Certificate IV in Fabrication and Welding programme. With the knowledge and experience gained, in the near future, he hopes to open a welding shop.
Semester 1 studies
Applications for Semester 1, 2022 studies at FNU will close on Friday, April 15.
For enquiries, students can visit our website on www.fnu.ac.fj email the Academic Team via admission@fnu.ac.fj  or call 9555760 or Text (Toll-Free) 857 for Vodafone and Inkk users.
In addition, students, parents and guardians can visit our FNU KONA Express Booths today until Saturday (April 7-9) at Tappoo City, Suva, Shop & Save Supermarket in Navua, My FNPF Centre in Nadi and Sugar City Mall, Lautoka for application requirements and academic counselling and queries.
Students can also visit our campuses in Koronivia, Nasinu, Derrick (Samabula), Namaka (Nadi), Natabua (Lautoka), Ba and Labasa to complete their enrolment process.