Prasad Pursues Specialised Skills
Press Release Posted On: February 1, 2023

Ajnesh Prasad is no stranger to hard work, as he grew up with the motto that nothing can be achieved without commitment and a plan to succeed. Prasad (pictured above) was part of one of many families who lived in Lajonia, Labasa in Vanua Levu.

"I had a great childhood and am most proud of the love, mentorship and support I have received from my parents over the years," Prasad shared.

"Although my father also worked for Energy Fiji Limited [EFL] for over three decades, we also practiced subsistence farming to help our family survive. This allowed us to use the income earned for other necessities."

"My mother was a housewife who ensured we enjoyed meals cooked with love."

Education

Prasad shared that after completing high school at Labasa Muslim College, he began having discussions with his mother about pursuing studies in the Nursing field.

"My mother had the foresight to encourage me to consider the opportunities in this field," he said.

"She saw that the workforce was full of other required professions and realised the potential and demand of becoming a nurse."

"Due to societal perceptions at the time, I was hesitant to join this field as it was seen to be a traditionally female-dominated sector.  However, I am grateful this did not stop me from pursuing Nursing studies, as it is a noble profession."

To emphasise the importance of the profession, Prasad was quick to attribute Christine Bell in saying that "Nurses are there when the last breath is taken, and nurses are there when the first breath is taken.

Although it is more enjoyable to celebrate the birth, it is just as important to comfort in death".

Prasad undertook studies in the Bachelor of Nursing at FNU and graduated in 2017. He returned to undertake a Postgraduate Diploma in Emergency Nursing in 2021.He proudly graduated last year with a Masters in Emergency Nursing.

"The Emergency nursing programme is new to Fiji. There were many people behind the scenes who worked tirelessly to develop and offer this programme to Fiji, and I would like to acknowledge them," he said.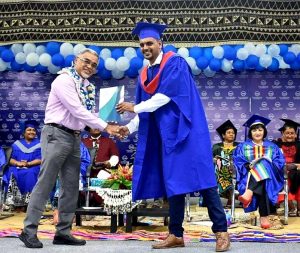 "I would also like to thank FNU for being the first university to offer the specialised course. This programme is evidenced-based with the latest research from around the country and covers many areas such as trauma, pandemics like COVID 19, disasters, early recognition of deteriorating clients, and the physiology of diseases."
Career
"I always enjoy job satisfaction, even after being in the nursing field or the last 12 years," he said.
Prasad has been employed as a Registered Nurse, specialising in General and Obstetric Nursing since 2011. After completing his internship, Prasad worked at the Tamavua Twomey Hospital and Saint Giles Hospital before being transferred to his current location at the Labasa Hospital.
"I have worked in the Emergency Department at Labasa Hospital for five years and have held the positions of shift charge, acting Team Leader and Nursing Unit Manager," Prasad shared.
Motivation
Prasad acknowledged his wife and parents for their support as he juggled being a full-time working student over the past two years.
"I was always travelling to Suva often to attend workshops and classes and my wife undertook most of the family responsibilities," he shared.
"My parents are also supportive of my commitment to serving people, and I hope to achieve this after doing further studies in emergency nursing."
Alumni Connect
Graduates of FNU and its former institutions can register to be part of the exclusive Alumni Connect portal and remain connected to their classmates and the University.
Registered alumni can receive news and updates on key University activities, read alumni success and feature articles, scholarship and upskilling opportunities, networking events and professional development and training seminars.