PAL helps students and leaders learn better – Al-Dousary
Press Release Posted On: June 9, 2021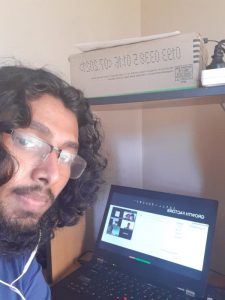 Mohammed Al-Dousary, a second-year Bachelor of Medicine and Bachelor of Surgery student at Fiji National University's (FNU) College of Medicine, Nursing and Health Sciences (CMNHS), believes that being a Peer Assisted Learning (PAL) Leader has allowed him to explore his teaching abilities.
Al-Dousary has always been passionate about teaching, and the role enables him to challenge himself to discover the profession whilst being a medical student. "The PAL scheme benefits both students and the leaders. Apart from being able to test my capabilities, it has helped me review previous year's materials and to have a taste of what it is like to earn money by putting in effort as an employee," he said.
The medical student is the PAL Leader for students enrolled in the MED501, Problem Based Learning for MBBS Year 1 unit.
"My duties involve imparting knowledge, tools and techniques which can help make understanding difficult topics easier. I also provide a narrative regarding which pieces of information relate clinically since medicine demands a hands-on approach and a detailed understanding of connection with anatomy, physiology and pathology."
Al-Dousary conducts his PAL sessions through Zoom for international students, who have not been able to come to Fiji due to the border closure. While sharing his views on learning and teaching in this COVID era, he highlighted that tools such as Zoom is the most feasible alternative and that we must adapt to this teaching and learning method if we want the gears to keep revolving.
"Zoom and other online platforms have enabled virtual classrooms to exist as an adaptation to the pandemic, and it has opened new doors in social interaction." "I prefer face-to-face learning to Zoom sessions; however, we must work with what we have to get things done. We cannot expect to come to a standstill. We have shown resilience in this pandemic, and I know we can use Zoom to do much good." According to Al-Dousary, being a PAL Leader is not easy; however, he uses different methods to keep a balance between his role, studies and having a social life.
"I use various study/productivity techniques such as the 'Pomodoro technique' and 'time-blocking' to optimise time management. Being in control of my time allows me to do things I love such as going to the gym, volunteering at an NGO, reading books (not about medicine) and attending to my religious obligations along with my studies and being a PAL Leader."
Growing up, Al-Dousary had a profound interest in a variety of disciplines, including geography, history, mathematics, physics, music and commerce as well. However, medicine seemed to be the option in which he could go out of his comfort zone while ensuring that he becomes part of a profession centred around service without barriers of race, religion, age, sexuality or gender.
"Furthermore, I worked towards achieving sufficient grades to be able to enter this competitive field of study. So after high school, I was eligible for a National Toppers Scholarship by the Fijian Government to pursue MBBS." Sharing about his secret to success in life, Al-Dousary said: "we must be mindful in everything we do. This includes focusing on the present and letting go of thoughts that do not serve you in the present moment. You can apply this to any facet of life."