New students welcomed by the Fiji Maritime Academy
Press Release Posted On: April 14, 2022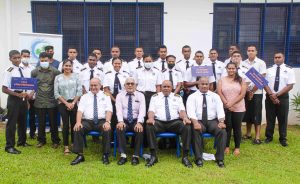 Seated in their crisp black and white uniforms, new students of the Fiji National University's (FNU), Fiji Maritime Academy (FMA) listened attentively to the Academy staff during their Orientation session for the new academic year.
The new batch of students was briefed on the dress code, code of conduct, enrollment and payment plans, the role and services of the FNU Students' Association (FNUSA) and other academic and support initiatives available to them.
Following the presentations, the students were taken on a guided tour around the campus to familiarise themselves with the lecture and simulation rooms.
Amongst the excited students were Adi Aloesia Kalokalodromu and Frances Masaurua, who quietly took in their surroundings and made notes of what was required of them.
Kalokalodromu said she was eager to begin her Diploma in Nautical Science studies as it was a career ambition she had since was younger.
The former Bhawani Dayal Arya College student said she had researched maritime studies and career opportunities available so that she could make an informed decision about her studies.
"As a young girl, I know I wanted to be in the seafarer industry and was glad when I learnt about the courses offered at FMA," Kalokalodromu said.
"I read through the programme outline online and applied successfully to the Academy." "I am ready to begin on-campus studies and hope to one day work on a regional vessel."
Masaurua, who like Kalokalodromu is also from Cakaudrove in Vanua Levu, said she was able to easily adapt to her tertiary studies due to the helpful academic staff.
"I am glad we have this orientation session to help us get ready for studies at the Academy," she said.
Through the Nautical Science programme, the duo and their classmates will undergo units in Technical Communication, General Ship and Nautical Knowledge, Practical and Marine Navigation & Chart work, Managerial and Leadership Skills, Applied Science, Engineering, Marine Environmental Awareness and Administration.