Nath's creative mind leads him to undertake Engineering studies at FNU
Posted On: January 13, 2022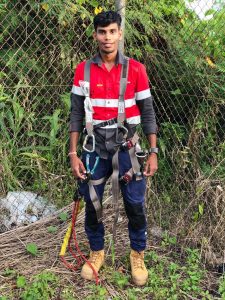 Growing up in Sigatoka, Ashnil Nath loved to create new things. His innovative ideas were sourced from books and watching YouTube videos and this hobby developed into a desire to become an Engineer. With this vision, Nath enrolled for the Bachelor of Electrical Engineering (Honours) at the Fiji National University's (FNU) College of Engineering, Science and Technology (CEST).
Presently working as a Graduate Engineer Radio Networks at the Vodafone Fiji PTE Limited, Nath joined FNU as a National Toppers Scheme (NTS) scholarship student. He proudly graduated in 2020.
Nath completed his six months industrial attachment at Energy Fiji Limited (EFL) before securing full-time employment at his current workplace.
The proud alumnus stated there are many aspects of his study that prepared him for the job market.
"The reason I chose the Fiji National University was the fact the way things are taught. FNU is more practical based and I enjoyed learning things that I would actually experience in my real life.  As alumni, I can confidently say that FNU is a reputable institution and employers do not hesitate to hire its graduates," shared Nath.
"As a Graduate Engineer, I am responsible for planning, installation, testing, commissioning and documentation of all base-station systems. I carry out proactive maintenance and fault restorations and ensure the availability of zero network outages," he commented.
Nath added that his time at the university did not just teach him the course work but exposed him to the "real" side of working life and he used this opportunity to make his alma mater proud.
"It was surreal to be selected to represent FNU in the Smart City Challenge which was held in Holiday Inn. This challenge was based on implementing an innovative project that would benefit the citizens," he added.
"Taking an engineering course was no easy feat. A lot of hard work, hustle and sacrifice was needed to overcome this.  Maintaining a 3.0 Grade Average Point (GPA) was required to maintain the NTS scholarship hence just the passing mentality would not help. Balancing an independent life with studies was indeed challenging."
Nath's advice to prospective students is simple. "Be open to suggestions, encouragement, and constructive criticism – they can all be the catalyst for great ideas." And in doing so, he urged students to "believe in yourselves and never give up."
Admission for Semester 1, Quarter 1 and Trimester 1, 2022 is currently underway and interested students can apply via the Admission Application portal on the FNU website. Click on https://www.fnu.ac.fj/study/apply/ to apply.
Prospective students can also text on 857 or email on admission@fnu.ac.fj if they face difficulties completing the process online or need further admission information.