Marshall loves virtually learning from her kitchen
Press Release Posted On: September 24, 2021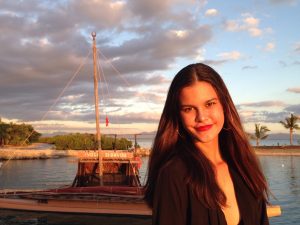 Baking enthusiast Michaela Helava Marshall loves the virtual practical sessions she is undertaking as part of the Trade Diploma in Baking, Patisserie programme through the Fiji National University (FNU).
Marshall enrolled at FNU in Semester II, 2020, after the desire to perfect her baking skills and intention to start a business in the future.
According to the FNU student, the course has taught her many new tactics of baking.
"I thoroughly enjoyed my first semester of studies. I appreciated the hands-on parts of the class and the theory parts of the course too. I believe this programme is preparing me very well to go into the workforce as a baker or venture into a baking business, and I look forward to completing my programme," she said.
The former Natabua High School student said that she likes the virtual learning atmosphere.
"I like the virtual class ambience and the format it is presented in. I learn and retain more through online classes because I can do the course as an open book. This makes me search for the answers, and in return, I retain more information."
"As a student at FNU, I enjoy working at my own pace and scheduling time to complete assignments while managing my small business. I would describe online learning as convenient. This is as I learn from the comfort of my home without stepping foot outside at all."
"The best part is that when class finishes, we don't have to rush somewhere to buy food and rush back to campus, as we have our kitchen to whip something healthy and delicious," she said.
The Nadi lass is delighted to be learning from the comfort of her kitchen, describing it as a mini bakery.
"I'm so excited to watch, listen and learn from my kitchen as my instructors teach me the ins and out of baking and patisserie."
Though Marshall's classes mostly require a hands-on approach, she is coping well with the online studies.
"Since we haven't been able to have face to face practical classes, I have just been doing tons of research online, watching YouTube, experimenting on new and old recipes, trying to perfect certain skills and learning more at home, especially in my kitchen."
Despite the intermittent network issues, Marshall thoroughly enjoys the online learning process and regularly logs in to Moodle to be part of the collaborative learning atmosphere.
"At the moment, I have been using Viber and messenger as a mode of communication to my lecturers and peers, and it's great as we have our various group chats for our different units."
She advises fellow students to stay positive during this transition phase.
"Take it one day at a time and try not to feel overwhelmed with all these new changes and transitions but to take it as a learning curve and try to learn as much as we can. There's always a light at the end of the tunnel, and we need to stay hopeful that eventually, things will go back to normal."
The Fiji National University offers a wide range of TVET courses, for more information visit www.fnu.ac.fj