Maibatiki pursues Musical Dream at FNU
Press Release Posted On: June 12, 2023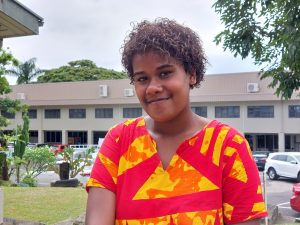 Having a family of musicians and singers is the greatest blessing Arieta Maibatiki has. From singing in church choirs and school choirs to being part of a sigidrigi group named Vua Ni Vatu Vola led by her grandparents, young Maibatiki is living her musical dream at the Fiji National University's (FNU), Natabua Campus.
To no surprise, the youngster is also part of the many angelic voices that make up the campus choir.
The 19-year-old from Lutu Village in Wainimala, Naitasiri is a first-year student pursuing a Bachelor of Education (Secondary) (Physical Education and Music) at the Lautoka-based campus.
Being the eldest of five siblings is no easy task for her, but through her Catholic faith and upbringing by her grandparents, Petero and Alumita Low, she manages to fully concentrate on her goals and what she intends to achieve in life.
The former Sacred Heart College student also comes from a family of teachers. "My mum is a primary school teacher, and my father owns a carrier that transports students to and from school in Naitasiri," Maibatiki (pictured below) shared.
"I love spending time with my grandparents, my grandfather is a retired Head Teacher of Saint Thomas Aquinas Primary School in Lami and is also a musician, they brought me up since I was in kindergarten."
She was first introduced to playing musical instruments like a guitar and ukulele at the age of six and was keen to learn more about other instruments at FNU Nasinu Campus last year.
"I first attended FNU's Nasinu Campus last year. We played brass instruments, trombone, ukulele, and guitar," she said.
"My future and long-term plan is to have my own studio and maybe have one abroad as well."
Maibatiki defines music as the 'universal language where we can interact with other people from different nations and where we can express our feelings'.
Semester 2, 2023 studies
Interested students can Apply Now for Semester 2 studies via the FNU website on https://www.fnu.ac.fj/student/ or email to admission@fnu.ac.fj
For further information or queries, students can also Text (Toll-Free) to 857 for Vodafone and Inkk users.
Alternatively, applicants can visit any of the FNU campuses to submit applications.
Classes for Semester 2 begin in July 2023.