Local and regional students greatly benefit from FNU's Virtual Outreach Activity
Press Release Posted On: October 14, 2021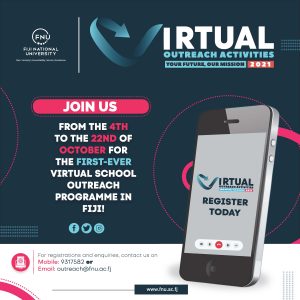 The Fiji National University's (FNU) Virtual Outreach Activity (VOA) continues to receive growing attendance from prospective students with more than 110 local and regional schools registered so far to participate in the 2-week campaign.
A total of four Zoom sessions are scheduled daily from Monday to Thursday.
Furthermore, in a first for Fiji, the University has organised three sessions in English, iTaukei and Hindi, allowing parents and guardians to discover what sets FNU apart from other universities in terms of programme delivery, hands-on practical sessions and compulsory industrial attachments.
Batinikama College Year 13 student Silviya Swastika Sami highlighted that the 'tailor-made' sessions made it easier for students to understand the information being presented by the experts.
Sami stated that she was able to gain an insight on how to choose majors and minors for different programmes.
"My first choice is Management and Marketing and the second choice is Accounting and Information Systems. Through these sessions, I was able to understand more about these fields of study and the careers that I could get into," she said.
"Having the Colleges present about their programmes separately gave me an idea of the different study options available at FNU."
Sami is encouraging students and the general public to participate in the Zoom sessions and learn about the University's courses and study opportunities and most importantly learn from the experts about today's fast-changing job market.
Students completing or have completed Year 12 or 13 also have the opportunity to undergo studies in a Technical and Vocational Education and Training (TVET) course at FNU through the 5,000 Tertiary Scholarships and Loans Service (TSLS) placements.
Offered through the University's TVET Pasifika, these courses are Certificate III, Certificate IV and Trade Diploma level qualifications. Students eligible for TSLS-funded studies must have successfully completed Year 12 with a maximum mark of 200/400 or completed Level 1 and II studies from the Technical College of Fiji.
Prospective students can choose from a wide range of TVET courses offered by the University in various fields of study, including Engineering, Medical, Tourism and Hospitality, Entrepreneurship, Fashion and Design, Cooking and Patisserie, Carpentry, Construction, Graphic Arts and Design, Film and Television Production, Hairdressing, Automotive, Electrical and Electronics.
Interested students can still register and participate in the Livestream sessions during the University's Virtual Outreach Activities (VOA) from the 4th to the 22nd of October by emailing outreach@fnu.ac.fj or call the Outreach team on 9317582.
Parents and guardians who wish to participate in the dedicated Information Sessions for them can also register through the contacts above. These sessions will be held on Friday, October 15 in the English, iTaukei and Hindi languages.