Lidise recalls student journey
Press Release Posted On: November 14, 2022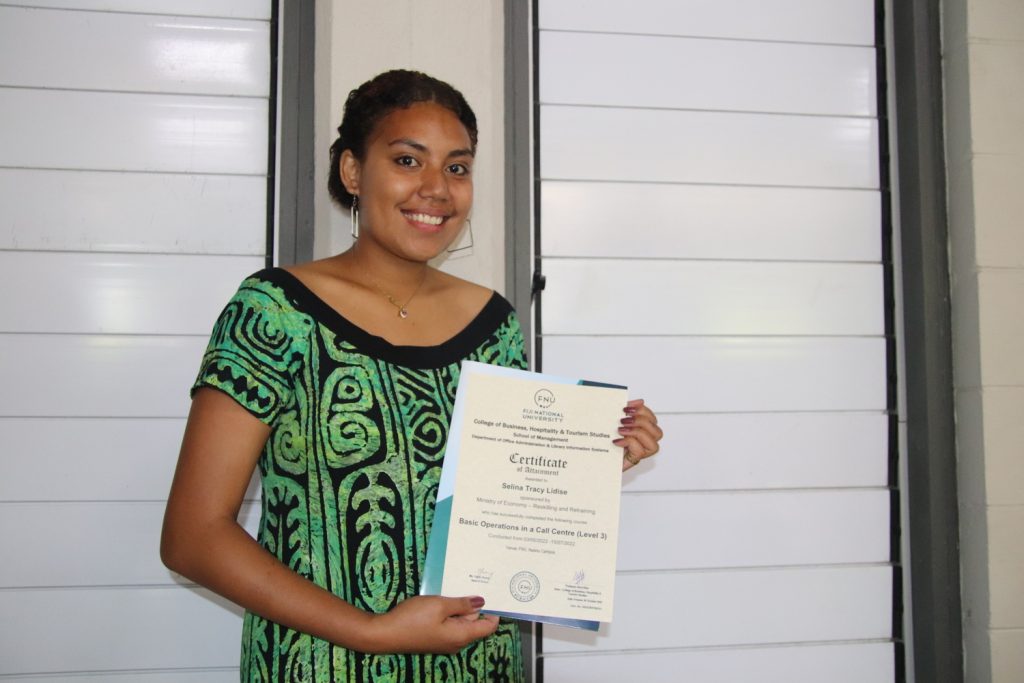 After hearing an advertisement on the radio regarding a TVET course at the Fiji National University (FNU), Selina Lidise's father wasted no time in packing a suitcase to travel from Lau to enrol his daughter into the course.
Lidise said her father learnt about the Basic Operations in a Call Centre (Level 3) programme and travelled to Suva to ensure his daughter took advantage of the opportunity to gain skills in a developing industry.
"My father, who stays in Lomaloma, Vanuabalavu in Lau, heard about the programme on the radio and immediately called to inform me that there was a call-centre course taking place at FNU's Nasinu Campus," she said.
"He then came by boat on that same day with a cousin of mine, and after arriving, they came straight to FNU with their suitcases to help me enrol."
"I am grateful to have gained skills and graduated in a field that has provided employment to countless Fijians."
Lidise was part of the 100 students that graduated this month from the programme, which is offered by the College of Business, Hospitality and Tourism Studies (CBHTS).
The 18-year-old received further good news as a recipient of the Ferguson Scholarship for studies in Tourism and Travel. She will be traveling overseas this month to pursue further studies.
While addressing the graduates via Zoom from London, Outsource Fiji Executive Director, Sagufta Janif, said contact centre agents in Fiji's BPO industry are in high demand, and urged Fijians to consider opportunities in the industry to pursue full-time careers.
"With the Fijian Government's support, Fiji's BPO industry has tripled its size over the past two years and is moving into the direction of becoming a sustainable pillar for Fiji's economy – therefore, you are choosing this career path which will give you stability as well as opportunities to grow within the industry," she said.
 TVET Support at FNU
Students interested in pursuing the Basic Operations in a Call Centre (Level 3) or other TVET courses at FNU can apply now for one of the 4,600 placements available through the Tertiary Scholarships and Loans Services (TSLS).
Eligible students must obtain a pass in Year 12, Certificate I, Certificate II or secure a final offer letter for any Certificate Level III, IV or Diploma level 5 programmes offered at FNU.
FNU is now accepting applications for Semester 1, 2023 studies.
For further information, students can visit our website at www.fnu.ac.fj, email the Academic Team via admission@fnu.ac.fj or Text (Toll-Free) 857 for Vodafone and Inkk users.