Kumar pursues research studies at FNU
Press Release Posted On: April 28, 2022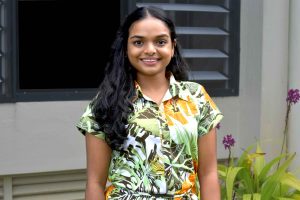 Priyaashna Kumar is focused on attaining her Masters qualification through the higher degree by research route at the Fiji National University's (FNU) College of Agriculture, Fisheries and Forestry.
Kumar, who has a passion for sustainable agricultural development and safeguarding the environment has based her research on detection and prevention of viral infection of sweet potatoes.
"Sweet potato is consumed widely in the Pacific and around the globe. At the moment, the newest product that the Pacific has developed is sweet potato chips which are being exported."
"I will be investigating the weeds that are the carriers of these viruses because viral infection affects the yield and causes detrimental effects on sweet potato production."
"My main research is virology based, and I am working with a team of plant pathologists and virologists so that I can work out and investigate the types of weeds that can detect if the virus is already present in the field, for the awareness of farmers before crop sowing."
In December last year, she received a pleasant surprise, securing a scholarship from the Australian Centre for International Agricultural Research (ACIAR) Pacific Agriculture Scholarship and Support – Climate Change (PASS-CR) program.
The ACIAR PASS-CR enables research collaboration in research capacity building to address common upcoming issues and opportunities. This includes projects addressing biosecurity, climate-resilient livelihoods, and opportunities for stronger agribusiness development.
Under the program, all scholarship recipients have external supervisors based in Australian Universities that allow for collaboration in specific research fields.
Kumar is guided in her research by three supervisors, Dr Mereia Fong and Dr Kaliova Ravuiwasa of FNU; Dr Amit Sukal from SPC and Dr Julie O'Halloran, an external supervisor based in Australia.
"I'm happy to study at FNU as academics at the College of Agriculture, Fisheries and Forestry have a lot of experience together with collaborator expertise."
The budding researcher said her perseverance has largely been due to the example set by her family, particularly her father who also holds a Masters qualification.
"Education is important in my family. The support from my parents, grandparents and my sisters is the reason I am here today as a researcher."