Kumar aims to serve
Press Release Posted On: March 1, 2023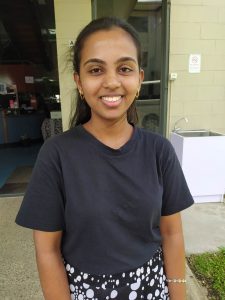 Twenty-three-year-old Sanjina Neha Kumar is optimistic about becoming a qualified medical professional after completing the Bachelor of Medicine and Bachelor of Surgery from the Fiji National University's (FNU) College of Medicine, Nursing, and Health Sciences (CMNHS).
Kumar said assisting people was her passion from her childhood days, which gave birth to her dreams of becoming a doctor and serving the people of Fiji.
"It was a dream for me, but believe me, becoming a doctor is not an easy job because one must commit themselves fully to the study. It also requires sacrificing sleep and leisure activities; one must also be able to divert much time away from family and friends."
"I have a strong support system in the form of my family, who have been motivating me to go the extra mile and do well in my studies. I am blessed to have the support and blessing of my family." Kumar shared that as a science student, she enjoyed exploring and finding solutions to issues.
"In the medical field, I learn more about the human body and how it functions, and as a doctor, I would be able to help my fellow citizens, which would be rewarding. I would get a lot of satisfaction," she said.
Originally from Lautoka, Kumar is the eldest of three siblings. Her youngest sister is in Year 11 whilst her second eldest sister is currently enrolled at CMNHS in the Bachelor of Medical Imaging Science programme.
"I want to serve my country and the people," Kumar said.
"I want to specialise as a cardiologist."
"My message to others who want to establish a career in the medical field is that once you join the medical field, you have to fully commit yourself to the medical field and stay true to your duties and responsibilities."