Interest in Public Health Drives Datt's Career
Press Release Posted On: March 3, 2020

The World Health Organization (WHO) defines public health as the art and science of preventing disease, prolonging life and promoting health through the organised efforts of society.  This definition drives Darisha Datt's mission of working with the community to ensure that people live a healthy life.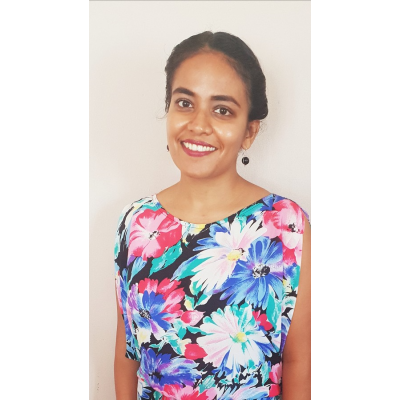 For Datt, "Public health is a broad field overlooking the health of the entire population, be it drinking water, infectious diseases, non–communicable diseases, occupational health, environmental health, mental health, emergency preparedness and so on. I guess this is what makes it so interesting" she highlighted.
Datt was born and raised in Nausori. She attended Assemblies of God Primary School and Vuci Methodist Primary School followed by Vunimono High School to complete her high school studies. Her father was a plumber for the Public Works Department (PWD), and her mother was a homemaker.
Upon completing her high school studies in 2004, Datt embarked on a journey that she had eagerly waited for many years. She enrolled at the Fiji School of Medicine (FSM), now the Fiji National University's College of Medicine, Nursing and Health Sciences (CMNHS) in the Bachelor of Public Health programme.
"I was very excited as I had looked forward to "uni" life throughout high school. I had a few friends from high school going to FSM to study different programmes, and since I was living in Nausori, I did not have to stay away from home so I had nothing to worry about," she said.
"I made new friends at FSM. Some of those people are still my friends. The university environment was very different from the high school environment, but I liked the change. The lecturers were amazing, and it was a conducive learning environment," added Datt.
Datt graduated with a Bachelor of Public Health in 2007. She then started working for Nasinu Town Council as the Health Inspector. After working here for three years, she moved to Save the Children Fiji as the Community Development Officer in 2010.  There she was involved in working with Mobile Play Group Project team in setting up the Early Childhood Education Centres (ECEs) in the central division of Fiji.
In 2011, Datt joined the World Health Organization (Fiji)/ National Food and Nutrition Centre (NFNC) as the Project Officer on the salt reduction project. After one year, she moved to New Zealand and worked there for about seven months before moving back to Fiji where after some time as a volunteer at Diabetes Fiji, she secured a full-time job with Nausori Town Council as the Technical Officer in the Health Building Section. She assisted the health inspectors in carrying out inspections and developing an electronic database for all the business applications received by the council.
After serving there for a year, she moved to Medical Services Pacific as the Water, Sanitation and Hygiene Officer (WASH) and the Monitoring and Evaluation Manager. Her area of work was communicable diseases, environmental health, and health emergency preparedness, response and resilience. She served here for four years before making her next career move.
In May 2019, she joined the Fiji Cancer Society (FCS) as Programme Manager – a position she currently holds.
Her job involves managing overall programmes of FCS ranging from palliative care and support towards cancer survivors and newly diagnosed patients with cancer (cervical, lung, breast, prostate etc) to creating awareness on the importance of early detection and undergoing cancer screening, for example encouraging women to undergo cervical cancer screening and advocating on self-breast examination.
"I like my job. It is very interesting, and I get to meet many people from different walks of life," said Datt.
Sharing her advice to graduates starting in their career, Datt said, "Work hard and never give up, listen to your parents as they have been through it all and know what's best for you. Thirdly, do not get influenced by your peers into doing negative things."
Datt credits her success to her father, who she says has been her pillar of hope and strength.