Incoming students to study in brand new facilities, VC Healey
Press Release Posted On: January 28, 2020

The Fiji National University's (FNU) ongoing multi-million-dollar infrastructure upgrade and key capital projects is aimed to provide students with an opportunity to study in the best facilities.

Speaking during the orientation of new students who joined FNU's College of Business, Hospitality and Tourism Studies (CBHTS) and College of Humanities and Education (CHE), Vice-Chancellor Professor Nigel Healey said the new facilities will ensure students study in a modern learning environment.

"You will be the very first batch to study in the new state-of-the-art business school building, once it is fully completed," said VC Healey.

"We have invested a huge amount of money in our facilities in recent years. Just as you enter the premises, you will notice the new CBHTS building which cost us about thirty million dollars to complete. We also have the ten million dollar new sports complex which will be ready soon," he said.

"As an FNU student, you now have superfast broadband. I am pleased to inform you that from now, you will have free unlimited Wi-Fi anywhere in our Campuses and all our learning materials is just a click away, it's all available online," said the senior academic.

Professor Healey reminded students to remain focused on their academic goals as well as make the most of their time at FNU.

"I am sure you are all very excited in embarking the next stage of your life. Some of you might also be feeling a bit nervous; some of you will be leaving your families and homes for the first time. Be assured we are here to help and guide you," he mentioned.

Students were also advised to be prepared to get out of their comfort zone and become more academically independent.

"For all of you, you have been living a very highly structured, fully timetabled world as a secondary school student. To come to University, you will be required to work independently, either alone or in groups to acquire knowledge and skills and to challenge what you think you know about the world," he added.

"University is your opportunity to grow intellectually and personally to become a person you want to be in your lives."

Dean of the College of Business, Hospitality and Tourism Studies, Professor Ram Karan encouraged students to work hard. He advised students to seek out a wide range of opportunities on offer to them such as career planning and internships.

"Our enrolment numbers have been growing in recent years. This is a clear indication that there is a demand for skilled and educated people in the business and hospitality sector," said Professor Karan.

Neha Kumar, who will be pursuing Bachelor of Commerce in Banking and Information System programme said the orientation session was both educational and helpful.

"It's really good to hear from the Vice-Chancellor and the College Dean that we will soon have new facilities here. I am already excited about it. As for the orientation program, I recommend other new students who have enrolled to attend these important sessions," said an excited Kumar.

Marika Rabolabiu, a former Gau Secondary School student, enrolled in the Bachelor of Industrial Arts and Human Resources programme was another new student who attended the Orientation session.

"I am counting down the days to begin my tertiary studies. It's going to be fun and challenging at the same time," he said.

Orientation sessions will be held at all FNU Campuses and Centres throughout the week.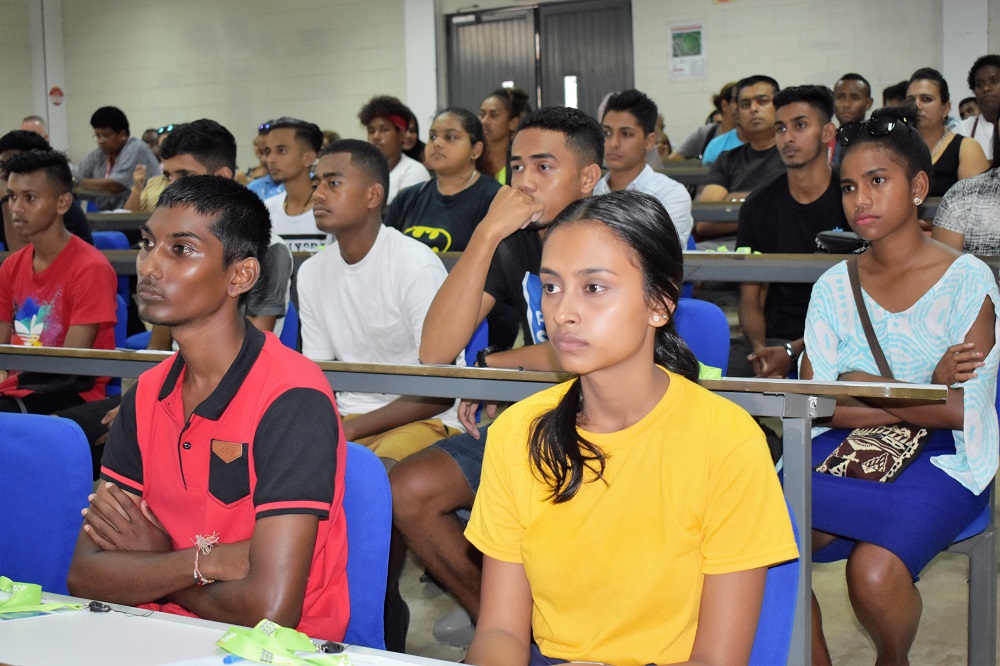 Students turned in large numbers to attend the Orientation session at FNU's College of Business, Hospitality and Tourism Studies