Hussain boosts his career with a Postgraduate Diploma from FNU
Press Release Posted On: June 18, 2021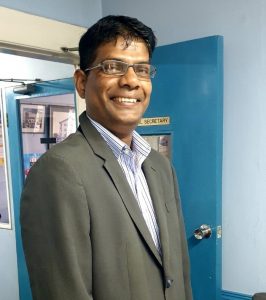 Having spent over two decades in the banking industry, Fiji National University (FNU) graduate Faizal Hussain was always keen on advancing his academic qualifications.
When he discovered that FNU was offering Postgraduate Diploma in Economics from the Labasa Campus, Hussain pounced on the opportunity to further his education.
"The FNU Labasa Campus is located close to my home and this was the perfect opportunity for me to upgrade my studies," said Hussain.
"I'm impressed by the flexible learning options available for working students.  It was so easy to adapt to learning once again, after a lapse of more than ten years."
"The Postgraduate Diploma in Economics teaches how people behave and organisations operate under the constraints of resources. We develop a better understanding of how global phenomenon impact economies, lives and how we can make informed decisions and policies to cushion the impact and re-build economies," he added.
Two years after graduating from FNU, Hussain is successfully leading the Loans Department at the Bank of Baroda, Labasa branch.
"I have worked in all eight branches of the Bank of Baroda for 23 years now.  I started my long journey as a ledger clerk.  I climbed up the ladder from a teller, administration officer and later as a loan officer before reaching my current position."
In addition to his Postgraduate qualification, the successful banker holds a Bachelor of Arts in Mathematics and Economics from the University of the South Pacific.
Originally from Valebasoga, Labasa, Hussain credits his success to his wife, Saireen Nisha.
"I overcame many challenges in life, some were related to financial constraints as well since I come from a sugarcane farming background. I am grateful for the support I received from my better half.  She has always supported me in everything, including my postgraduate journey with FNU."
"FNU has just been the right place for me and I have enjoyed every moment of learning."
"The qualification I attained from FNU was pivotal for career progression and I would encourage everyone to keep learning."
Enrolment for Semester 2, 2021 is currently underway and interested students can visit the FNU website on www.fnu.ac.fj to learn more.
Prospective students can also text on 857 or email on admission@fnu.ac.fj if they face difficulties completing the process online or need further information on enrolment.