Graphic Arts and Design at FNU
Press Release Posted On: July 22, 2021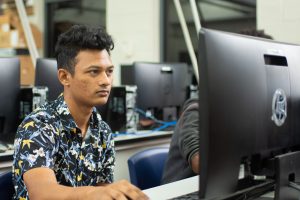 The art of creating visually appealing content that captures one's attention is crucial in a world that is increasingly moving towards online networking, learning, teaching and communication.
At the Fiji National University (FNU), creative design students have the opportunity to study and attain Certificate IV level qualifications in Graphic Arts and Design.
Offered by the College of Humanities and Education (CHE), Department of Creative Arts, the one-year full-time programme equips students for entry-level positions within the creative arts industry.
Programme Coordinator Joseph Lavulo said students would also be imparted with a strong understanding of the cultural sector of the Fijian community in order to enhance the creative industry both locally and throughout the region.
"Students who completed Year 12 external examinations with a pass in English, and other eligible creatives are encouraged to apply. We also encourage students with disabilities to enrol and learn with us, as long as they can fulfil the requirements of the course ," Lavulo said.
"The course is aligned to current trends of the commercial Graphic Art and Design industry, hence students will learn above the primary standards of modern Graphic Art and Design competencies, and instil the necessary confidence, and training that enables participants the poise, and to establish entrepreneurial commercial ventures in their ingenious field of choice."
"We will develop the students' attention to detail, perception and visualisation, their aesthetics and balancing artistry with audience appeal."
Lavulo said students would also become proficient in using software such as Adobe Acrobat, Adobe Illustrator, Adobe InDesign and Adobe Photoshop for photo editing.
"They also master the skills of understanding and communicating their services orally or via print, their technical, time management skills and interpersonal skills and typography," he explained.
He added that graduates had various career pathways to choose from in the creative arts, public and private sector.
"Graduates exiting the program become Junior Graphic Artist/Designers and will be tasked to design graphics for use in websites and media products such as magazines, labels, advertising, fashion fabric textile design concepts, signage and many more design orientated products."
"Our graduates can also be employed as junior designers at large print houses, brand agencies, print publications, television and broadcasting, sports merchandising, as freelancers and at various other organisations."
"Career development is also enhanced through frequent job movement to widen their experience and develop strong portfolios needed for promotion," Lavulo said.
The Certificate IV in Graphic Arts and Design is offered through the University's technical and vocational education and training (TVET) stream. Interested students and stakeholders can learn more by visiting https://www.fnu.ac.fj/tvet-pasifika/