FNU's Virtual Outreach Activity convenient for Teachers
Press Release Posted On: October 21, 2021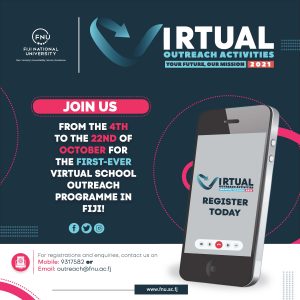 The Fiji National University's (FNU) Virtual Outreach Activity session will greatly assist secondary school teachers to provide their students with the right guidance and assistance to smoothly transit into tertiary education next year.
Teachers from various schools across Fiji participated in the Activity through a Live Zoom session today where they were able to discuss important matters related to the applications process, minimum entry requirements for various programmes and also information on FNU's TVET programmes that are funded by the Tertiary Scholarships Loans Service (TSLS).
Nadarivatu High School Teacher Peni Waqalevu was delighted to discover the countless opportunities for his students. He described FNU's Virtual Outreach Activity as flexible and convenient.
"The current arrangement by the Fiji National University (FNU) enabled us to interact with academic staff regarding study options, view College videos and obtain all relevant information online," said Waqalevu.
"Choosing the right University has always been a mammoth task for students. This platform has equipped us well to help our students in selecting the best education provider."
Gospel High School Teacher Bale Naivanawalu stated the Virtual Outreach Activity session was enlightening and presentations from various FNU Colleges were insightful and interesting.
"At the end of the session, I had some queries and I am pleased with how the FNU staff provided clarification to my inquiries. I look forward to delivering this information to my students."
Students completing or have completed Year 12 or 13 also have the opportunity to undergo studies in a Technical and Vocational Education and Training (TVET) course at FNU through the 5,000 Tertiary Scholarships and Loans Service (TSLS) placements.
Offered through the University's TVET Pasifika, these courses are Certificate III, Certificate IV and Trade Diploma level qualifications. Students eligible for TSLS-funded studies must have successfully completed Year 12 with a minimum mark of 200/400 or completed Level 1 and II studies from the Technical College of Fiji.
Prospective students can choose from a wide range of TVET courses offered by the University in various fields of study, including Engineering, Medical, Tourism and Hospitality, Entrepreneurship, Fashion and Design, Cooking and Patisserie, Carpentry, Construction, Graphic Arts and Design, Film and Television Production, Hairdressing, Automotive, Electrical and Electronics.
Interested participants can still register and participate in the Zoom sessions during the University's Virtual Outreach Activities (VOA) this week, from 19th to 22nd October, by emailing outreach@fnu.ac.fj or calling the Outreach team on 9317582.
The sessions this week are scheduled for students, careers teachers and those interested in Higher Degree by Research (HDR) programmes.