FNU's Medical College marks historic relationship on 10th anniversary
Press Release Posted On: January 29, 2020

The Fiji National University's (FNU) College of Medicine, Nursing and Health Sciences (CMNHS) has marked its historic relationship with regional countries by launching their flags as part of the University's 10th-year anniversary celebrations during the 2020 Student Orientation at Pasifika Campus.

CMNHS formerly known as the Suva Medical School has been educating health professionals from the region since 1885 having graduated first two regional students in 1916.

Students from Fiji and the region, who will start their University life at the College from next week were elated to be part of this year's College Orientation programme.

FNU Vice-Chancellor Professor Nigel Healey said University environment was an opportunity to grow intellectually and personally.

"The FNU family is here to support you in your journey and our academic staff are here to teach, mentor and guide you in your studies."

"In your working life, nothing will stay the same: not the patients you treat, not the technology you use and not what you do at work each day," Professor Healey commented.

He said: "The only way to prepare yourselves is to gain a good University education that lays down a solid foundation of technical and transferrable skills-and be willing to return to formal education in the years ahead to upskill and reskill as the world changes around you".

While congratulating the students on securing a placement at the University, the Dean of CMNHS, Dr William May said the College strives to put the students at the centre of everything.

"You have joined an institution, part of which was opened by Her Majesty Queen Elizabeth II on December 17th 1953. You also become part of two very old health professional training institutions in the region."

"This can seem as daunting as it is exciting, as challenging as it is empowering. But the great thing is that you are doing something that you have chosen to do," he said.

"While you are here at CMNHS you will have the opportunity to learn new things, acquire new knowledge, develop new skills, and enhance your personal attributes in profound ways that will equip for life after University."

Dr May added that at the same time students would make new friends who would become their friends for life.

The Dean also advised the freshmen to take responsibility of their learning and to make the most of their time at the College.

"Embrace the difference because the University is a melting pot."

"You have come from different backgrounds and communities to pursue your ambitions together as students."

Australian Department of Foreign Affairs and Trade representative, Rochelle White, said they were proud to be a partner with FNU.

"You are about to begin a big journey and once you go back to your countries as professionals, you will be seen as a leader in your communities."

"The best resource that you have is each other and you can always turn to your friends and lecturers whenever you need anything," she said.

One of the flag bearers, Teeri Komwenga, a year three Bachelor of Medical Imaging Science student said she felt proud to see her country represented at the College.

"When I will walk into the campus, I will see my country's flag and it will motivate me to study hard."

"Seeing the 12 regional countries' flag on campus also highlights the fact that CMNHS welcomes every student here and that is a huge sign of equality."

FNU formally opened its doors for business in 2010. The University was created by virtue of the Fiji National University Act 2009 which amalgamated six government higher education colleges, each of which had a long and distinguished academic history.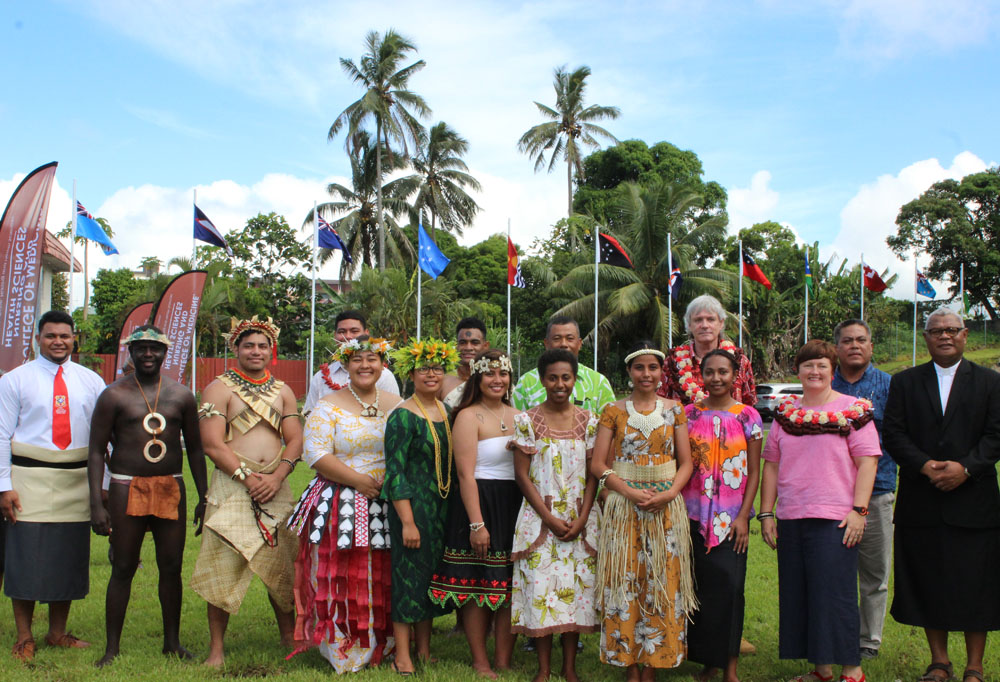 FNU Vice-Chancellor Professor Nigel Healey with CMNHS Dean, Dr William May, invited guests, senior staff and flag bearers