FNU's Marketing programme develops graduates to excel in a competitive job environment
Press Release Posted On: June 10, 2021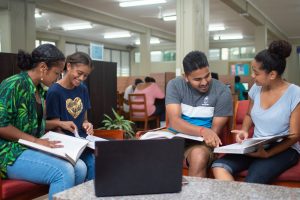 The Fiji National University's (FNU) marketing programmes nurture and enhance the talents of students assisting them to explore their passion, develop new skills and achieve success in the marketing field.
According to the Head of Management Department at the College of Business, Hospitality and Tourism Studies (CBHTS), Suman Narayan, the marketing programme is offered with several combinations, therefore students are not limited to a particular career path.
"Our Bachelor of Commerce with marketing major is offered with combinations such as management, industrial relations and human resources management, finance, economics, accounting, law, information system and banking," said Narayan.
Students also have the flexibility of attending day as well as evening classes for all the marketing programmes.
"What gives our marketing programme a competitive edge is the requirement of industrial attachment for graduation. For example, students enrolled in the diploma and bachelors complete four months practical attachment as part of the programme," she said.
Through the marketing programme, students can enhance their skills which range from a basic understanding of the fundamentals of product, promotion, pricing and place to digital marketing which also focuses on the ability to conduct market research, analyse data and make interpretation and recommendation to companies.
"Today our marketing graduates are employed as marketing professionals and specialists, marketing research assistants, sales and digital marketing officers."
"Our qualification is for life, and most of our marketing graduates are also excelling as public relations officers, web content writers, advertisers, product managers."
FNU's marketing programmes at Diploma and Bachelors level are offered in Nasinu, Namaka, Labasa and Ba Campuses.
Interested students can visit the FNU website on www.fnu.ac.fj to learn more. Enrolment for Semester 2, 2021 is currently underway.
Prospective students can also text on 857 or email on admission@fnu.ac.fj if they face difficulties completing the process online or need further information on enrolment.