FNU's high school visits crucial in shaping futures – Singh
Press Release Posted On: July 4, 2023

More than 100 students of Nadroga Arya College converged around the Fiji National University's (FNU), Career Discovery with High School Students team with questions concerning their tertiary education and future career pathways.

Nadroga Arya College Principal, Dhramjit Singh said awareness on the different career pathways available was crucial for high school students in shaping futures and students' journeys to successful tertiary education.

Singh was delighted to have FNU at the College in Sigatoka to educate the students on their future opportunities. Nadroga Arya College, established in 1998, is located in the Tikina of Malomalo with the surrounding mountains providing a backdrop to the school's classrooms.

FNU's Career Discovery teams are currently visiting high schools in the Western Division. The teams visited Nadroga Arya College, Cuvu College, Nadi Muslim College, Khalsa High School, Mulomulo Secondary School, and AD Patel College today.

"Nadroga Arya College is really privileged to have the FNU team here to talk to our students," Singh said.

"The Career Discovery sessions is important to create awareness amongst our students, especially to our Year 12 and 13 students. FNU, being one of the universities with campuses all around Fiji, gives our students an opportunity to make the right choices."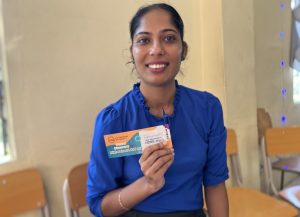 Nadroga Arya College, Careers Coordinator, Deepika Chand said it was a pleasure for the school to host the team from FNU.
"The students were given the opportunity to clarify their doubts, which have all been resolved by the FNU team," she said.
"Thank you, FNU for taking out your time to help our students towards their great career pathways."
Nadroga Arya College, Year 13 student, Shamiya Khan said she is excited to join FNU to pursue a Bachelor of Medicine and Surgery (MBBS) from the College of Medicine, Nursing and Health Sciences (CMNHS).
"The presentations by the team was great! I learnt a lot of things, such as the different courses that are being offered at FNU, the entry requirements as well as the different campuses of FNU and after learning about all this information today I wish to study medicine at FNU!" Khan said excitedly.
"I choose FNU because the staff are great, and they are very helpful, and also because of the many programmes and courses offered by FNU which is very broad in range."
The high school visits commenced in the Central Division on 19-30 June. Our Career Discovery teams will be in the Western Division from 3-14 July, and the Northern Division from 17-28 July 2023.
Virtual sessions are going to be conducted for maritime schools in the first week of August.