FNU's Bachelor of Health Services Management programme receives international accreditation
Posted On: January 13, 2022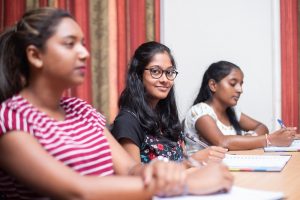 The Fiji National University's (FNU), Bachelor of Health Services Management (BHSM) programme has been awarded its accreditation certificate from the Australasian College of Health Service Management (ACHSM).
Offered at the College of Medicine, Nursing and Health Sciences (CMNHS), School of Public Health and Primary Care (SPHPC), the quota-based programme aims to train health professionals to critically analyze the range of health management and leadership issues in the health sector and facilities which is affecting the health services delivery to the individuals and the community.
The BHSM programme was reviewed in 2017 and implemented in 2018 as a total solution to contribute to frontline health managers in addressing these health management and leadership issues that will improve population health outcomes and quality of life.
Students of the programme will learn to acquire and apply modern concepts and competencies of health management and leadership as recommended for health managers and leaders internationally to be equipped with for better health service delivery.
These will be in the areas of health management and leadership concepts, health finance, health economics, health system, health policy, health planning, human resources in health, health communication and professional development.
Moreover, students also go for professional attachment in their final year to various health facilities and health administration office levels as part of hands-on practical in the health industry or health-related organizations before joining the health workforce after graduation.
FNU's College of Medicine, Nursing and Health Sciences (CMNHS) Acting Dean, Dr Odille Chang said the international accreditation of this newly reviewed and approved BHSM programme by FNU indicated the quality of the programme content and structure.
"Students/graduates can be assured that the content of the programme aligns with industry-recognized competencies for health leadership and management," Dr Chang said.
"This achievement by the SPHPC is an assurance to both the private and public health sectors on the quality of learning and teaching the school can deliver."
ACHSM Chief Executive Officer, Catherine Chaffey, highlighted that the ACHSM accreditation programmes key objectives are; to recognize excellence in the education of health services managers and leaders, to establish standards for the delivery of formal universities programmes in health and aged care services, to encourage a process of continuous quality improvement within these academic programmes, and to recognize academic programmes that met these standards through a transparent and objective process.
In addition, CEO Chaffey said other benefits include; provision of a certificate of accreditation for four years to FNU, use of the ACHSM logo by FNU CMNHS in all its documents, including graduation certificates and transcripts, sharing of information using the ACHSM website and FNU CMNHS website to provide advice to prospective students and key partners, and recognition and compliance with the Australian Qualification Framework (AQF).
"In terms of employment, this international accreditation helps that the FNU BHSM qualification is recognized in the Australasian group."
Chaffey said the FNU's College of Medicine, Nursing and Health Sciences (CMNHS) team would be provided with two free registrations to the ACHSM Asia-Pacific Annual Congress in 2022 in Perth, free access to the ACHSM Journal – Asia Pacific Journal of Health Services Management, and an invitation to work more closely with the ACHSM Queensland Branch for professional development programs organized by them during the year.
The ACHSM CEO and her team said they look forward to working with the FNU College of Medicine, Nursing and Health Sciences (CMNHS) School of Public Health and Primary Care (SPHPC) team in maintaining the Bachelor of Health Services Management programme quality and providing academic assistance.