FNU's Apprentices secure job placements
Press Release Posted On: September 16, 2021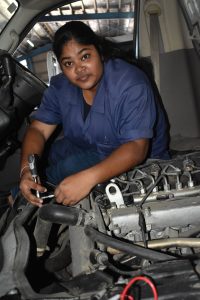 Twenty-one apprentices from the Fiji National University's National Training and Productivity Centre have been recruited for employment by various business organisations in July, the highest recruitment made in a month so far this year.
According to FNU's National Apprenticeship and Trade Test Manager Alvin Lal, the recruitment links directly to the organisations increasing output as the country prepares to open up borders soon.
"This is a positive indication of the economy recovering as employers proceeded towards hiring new apprentices in various trade areas," said Lal.
NTPC has facilitated a total of 29 requests from organisations to provide quality apprentices since the beginning of the year.
Last month, the Fiji Sugar Corporation hired 19 apprentices, comprising of four welding and fabricating apprentices, six electrical fitter mechanic apprentices, and three fitting and machinists.
Carpenters Motors, Energy Fiji Limited, Natural Waters Viti Limited, Lincoln Refrigeration Pte Limited, Goodman Fielder International, and Bluescope are some of the other registered employers that have hired new apprentices this year.
"Our team visited several firms in the central, western, and northern divisions at the beginning of the year and received overwhelmingly positive feedback on apprenticeship training. We received around 150 apprentice recruitment requests in the first quarter of 2021," commented Lal.
"Many organisations had advertised and finalised their selections, but due to the COVID-19 pandemic, they opted to postpone the recruitment," he added.
While having regular meetings with industry reps, Lal said several firms had temporarily suspended apprenticeship intake while waiting for restrictions to be lifted so operations can gradually return to normal.
Dr Isimeli Tagicakiverata, Director of the NTPC, stated that the staff at the Centre have been putting in extra effort since the first wave of COVID-19 last year.
"This is a pleasing growth for us, especially considering the dark times and businesses cutting expenses amid the COVID-19 pandemic," said Dr Tagicakiverata.
"As Fiji's National Productivity Organisation, we always ensure that we provide excellent service delivery to our workforce in terms of improving productivity and helping apprentices advance in their professional careers," said the Director.
The National Apprenticeship Scheme is a three-way agreement between the apprentice, the employer, and the NTPC. For three to four years, the apprentices are supervised and instructed by competent industry specialists. It allows the apprentice to be paid as an employee while learning and studying for academic certificates and diplomas part-time at university.
Since the scheme's inception in 1963, the Centre has graduated 8773 apprentices, with 70 expected to graduate at the end of 2021.