FNU's Applied Epidemiology programme 'addresses public health needs'
Press Release Posted On: June 17, 2021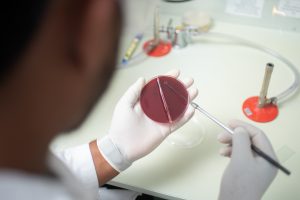 During a health crisis such as the current COVID-19 pandemic, epidemiologists play a key role in serving on the frontline by studying and understanding the disease and helping control its spread.
Epidemiologists study the relationships between diseases and the surrounding population and provide knowledge on health issues of the community and assist address these concerns.
Health specialists who wish to enhance their expertise in this field can do so by enrolling for Semester 2 studies at the Fiji National University's (FNU) Master of Applied Epidemiology (MAE) programme.
Offered at FNU's College of Medicine, Nursing and Health Sciences (CMNHS), the two-year programme is conducted through the School of Public Health and Primary Care at Tamavua Campus.
Epidemiology and Biostatistics discipline Programme Coordinator Scott Anesi said the Masters programme addresses the urgent need for epidemiologists in the region by providing students with strong analytic and quantitative skills needed to conduct professional-level public health research, disease surveillance, programme evaluation, public health practice, and epidemiological research.
"This programme aims to improve the health of Pacific populations by educating health workers to build better health policies, programmes and practices," Anesi said.
"Our students become epidemiologists who can make a big impact in the identification of health profiles, preventions of diseases, and making the necessary associations with factors that are associated with population health in Fiji or their home countries."
Head of Department Epidemiology and Environmental Health, Dr Ramneek Goundar added that the programme includes the educating of health workers through workplace-based training and is aligned to the Ministry of Health and Medical Services corporate plan, which addresses several needs in the public health arena.
"The graduates will fill in the gap in the regional health workforce as epidemiologists to help improve surveillance systems, carry out evidence-based research for policy development, and strengthen national epidemiological capacity," Dr Goundar said.
"This programme is  online, with face to face interaction available once restrictions are lifted."
"Students who undertake this course are involved in some way in the public health field. We have students from a wide range of backgrounds such as medical doctors, nurses, public health professionals and environmentalists."
"The scope of epidemiology practice can be applied to all health-related disciplines, hence it appeals to many health professions."
Dr Goundar said the need for epidemiologists locally, regionally and globally could not be understated.
"It is a profession that is severely short-staffed in all areas and one that has considerable job opportunities," he said.
"Three recent graduates from Fiji have taken jobs within the region as recruitment has continually been an issue in the region."
"With the current issues associated with both infectious and chronic diseases, the demand for epidemiologists will always be high."
Interested students can enrol for Semester 2 studies by visiting the FNU website on www.fnu.ac.fj  to learn more. Prospective students can also text on 857 or email on admission@fnu.ac.fj if they face difficulties completing the process online or need further information on enrolment.