FNU's Alumni Relations Office supports medical imaging conference
Press Release Posted On: September 4, 2020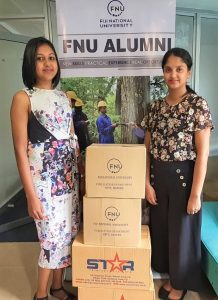 Nikath Firoz (right) from the FSMIT Council receives the sponsorship items
from FNU Acting Alumni Relations Manager Sharon Chand.
The Fiji National University's (FNU), Alumni Relations Office actively supports various organisations that allow its alumni to network and be innovative in their respective fields of expertise.
Acting Alumni Relations Manager, Sharon Chand, highlighted this whilst handing over sponsorship materials to the Fiji Society of Medical Imaging Technologist (FSMIT) Council this week.
"The Alumni Relations Office is active in supporting the good work its alumni do. Since many of the members of such organisations are our alumni, we believe supporting these organisations encourages them to connect and be more innovate as they collaborate," Chand said.
"This is also part of our engagement initiatives to connect with our alumni and to sustain a relationship with them."
"We have supported FSMIT in a similar manner last year in the view of developing a working relationship with the organisation which would harness a life-long partnership with our alumni who are members of the organisation."
Chand said providing support to these organisations were important to establish mutually beneficial relationships with the University's alumni and gave alumni a chance to stay connected to their alma mater.
FSMIT Council Vice President, Ravitesh Singh, said they were privileged to have established a working relationship with the FNU Alumni Relations Office.
"The council benefits from the items that have been sponsored by FNU's Alumni Relations Office. These items will definitely add a professional touch to our conference," Singh said.
"We believe in sustainable and responsible financial management with the limited funds we have on hand and with this sponsorship, we are able to ease off financial pressure to a certain level."
Singh added that FSMIT consisted of 205 members, of which 95 percent were graduates of FNU's College of Medicine, Nursing and Health Sciences' (CMNHS).
"Few of our members are also academic staff at CMNHS. Considering the above, FSMIT's relationship with the FNU Alumni Relations office is direct and vital as it provides feedback on the success of a group of alumni post-graduation," he said.