FNU's Accounting programme receives international accreditation
Press Release Posted On: September 29, 2021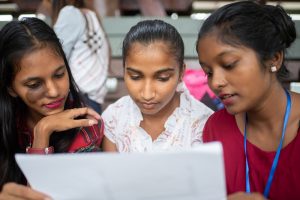 The Fiji National University's (FNU) Bachelor of Commerce in Professional Accounting programme has been accredited by CPA Australia, one of the largest professional accounting bodies in the world.
The three-year programme is offered by the FNU's College of Business, Hospitality and Tourism Studies (CBHTS).
Acting Dean, College of Business, Hospitality and Tourism Studies Dr Avanish Shukla said the international recognition means that FNU is delivering programmes at the highest level.
"We are incredibly proud of this achievement as it reflects not only the quality and standard of the programmes we offer but also indicates that our education is on par with global tertiary accounting qualifications," mentioned Dr Shukla.
FNU's Bachelor of Commerce in Professional Accounting programme gives the student a theoretical understanding of how Professional Accounting principles work within a business context.
"The programme prepares students for a career where they will develop capability and credibility across a broad spectrum of careers, opening the door to many other markets and professions where the ability to understand and interpret financial information is key," added the Acting Dean.
"Through Accounting, students gain the skills they need to become a trusted business adviser and make strategic financial decisions for organisations. This degree allows students to study one or more business areas of their interest, including financial and management accounting, commercial law, economics, finance, business information systems, management, marketing, international business and corporate sustainability."
Meanwhile, four Accounting programmes offered by the College of Business, Hospitality and Tourism Studies (CBHTS) were awarded a re-accreditation certificate from the Fiji Institute of Accountants (FIA) last month.
The Bachelor of Commerce (Professional Accounting), Bachelor of Commerce (Accounting major), Postgraduate Diploma in Accounting and Master of Commerce (Accounting) programmes are designed to provide graduates with conceptual and analytical knowledge, practical skills and in-depth knowledge in the field of accounting.
"The re-accreditation of our programmes by the FIA exemplifies the hard work and continuous delivery of quality learning and teaching, and also indicates the strength and sustainability of our accounting programmes."
Dr Shukla emphasized that the FNU's College of Business, Hospitality and Tourism Studies (CBHTS) will remain committed to high-quality learning and teaching of all programmes.
Local and regional students interested in studying at FNU can visit the website on www.fnu.ac.fj to find out more about the wide range of programmes and entry requirements.
FNU will also hold Virtual Outreach Activities (VOA) from 4th October where academic experts will speak to prospective students directly regarding study opportunities and career pathways. If you are interested in attending the live sessions email us at outreach@fnu.ac.fj to register.