FNU visits Nailaga village elders
Press Release Posted On: June 9, 2023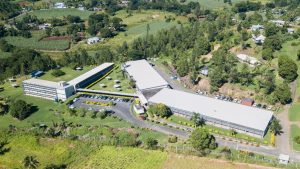 The Fiji National University (FNU) is committed to strengthening its relationship and collaborations with the neighbouring communities to enhance its provisions of quality and accessible education to the area.
This further demonstrates the University's deep appreciation of the landowners of Fiji for their overwhelming generosity and support towards the national tertiary institution.
FNU's Pro-Vice-Chancellor TVET, Dr Isimeli Tagicakiverata recently led a team of FNU representatives to visit the Nailaga village in Ba, which is the landowning unit of the FNU Ba Campus.
"Through the leadership and vision of the Acting Vice-Chancellor, Professor Unaisi Nabobo-Baba, the Fiji National University has begun to reach out to landowners of campuses and centres where the University centres and campuses are located," he highlighted.
"This has been undertaken with the intention of building good community relations between the University and landowners and acknowledging their contributions to the institution and its students and staff."
"The vanua is very important and sacred in Fiji, and the University recognises this."
"The landowners were appreciative and grateful to the University for the kind gesture, and the deep cultural awareness and meaning behind the visit. This was the first visit in many years, even as far back as the Fiji Institute of Technology (FIT) days before the establishment of FNU."
 Ba Head of Campus, Niraj Dharmendra was part of the visit and added that the University was grateful for the support of the landowners in various upcoming FNU community outreach and Agroforestry projects.
"We look forward to the continued support and partnership with the community and have begun discussions on how about 100 students from the villages who recently graduated from short courses could undertake further studies at FNU," he said.
The University will be undertaking similar visits to landowners of its campuses and centres around the country.