FNU to offer agricultural programme in Labasa
Press Release Posted On: July 8, 2023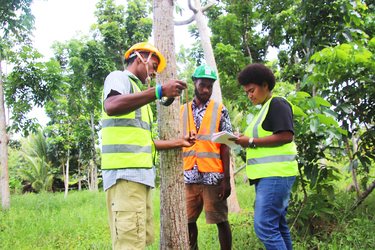 Fiji National University's (FNU) College of Agriculture, Fisheries and Forestry (CAFF) is extending its agriculture programme to Labasa.
CAFF Acting Dean, Dr Kaliova Ravuiwasa, said students would acquire skills and knowledge that will enhance food security and land utilisation in their villages and communities in Vanua Levu.
FNU's Naduna Campus in Labasa will be offering a Certificate in Agriculture (Level 3) programme from Semester 2, 2023.
"The programe gives them an opportunity to become entrepreneurs upon the completion of their studies," Dr Ravuiwasa said.
"Students undertaking this programme can join the agricultural sector as a field officer, livestock technician, aquaculture technician, or a crop extension officer."
Dr Ravuivasa said this programme will include both practical and theoretical aspects in the duration of the studies.
"The students undertaking this programme will be provided with attachment opportunities with relevant stakeholders in the industry before they graduate, allowing them to experience real-life work experiences," he said.
"After completing the program, students will automatically qualify for further studies in our Diploma (Level 5) programmes," he added.
Naduna Campus Head of School, Pardeep Lal, said the certificate program in agriculture is a good start for northern students.
"High school students who take up agriculture will now be able to obtain tertiary education in agriculture right in Labasa without having to travel to Viti Levu," Lal said.
"The campus also has an ideal location for an agriculture program as there is land availability. The natural environment of Naduna is added advantage."
Lal further stated that this programme is offered with the intention to fill the skills gap that exist in agriculture in the Northern Division.
"Mature students who have left school and are engaged in agriculture will also have an opportunity to obtain a tertiary qualification," he said.
"Agriculture sector needs to be strengthened in the North as Agriculture is the backbone of the North.
"This program is also going to fulfil one of the requests of the stakeholders in the North."
 Semester 2, 2023 studies
Interested students can Apply Now for Semester 2 studies via the FNU website on https://www.fnu.ac.fj/student/ or email to admission@fnu.ac.fj
For further information or queries, students can also Text (Toll-Free) to 857 for Vodafone and Ink users.
Alternatively, applicants can visit any of the FNU campuses to submit applications. The campuses are located in Koronivia, Nasinu, Samabula, Ba, Natabua, Namaka and Labasa.
Classes for Semester 2 begin on July 17, 2023.