FNU to host Virtual Open Week
Press Release Posted On: August 23, 2021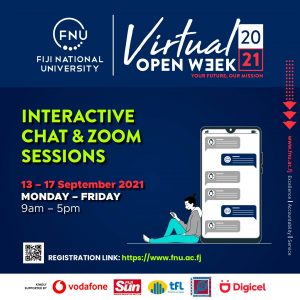 Prospective students, parents and guardians will have an opportunity to explore the wide range of programmes on offer at the Fiji National University (FNU) as well as ask academic experts questions on study areas of interest in 'real-time' during the FNU Virtual Open Week from 13 to 17 September.
FNU Vice-Chancellor, Professor Toby Wilkinson, said the week-long online event provides guidance to prospective students on the selection of the right study programmes, mapped against their career aspirations.
Professor Wilkinson emphasised that, despite the move to an online event this year, participating in the FNU Open Week still continues to be the best way to prepare for tertiary education.
"Choosing the right programme is key to a fulfilling and rewarding career. At the Fiji National University we provide multiple pathways for entry into our programmes regardless of financial and academic challenges," said VC Wilkinson.
"Given the current global economic situation and labour market adjustments, it is vital for students to consider carefully their choice of institution and career path. Attending an Open Day, even a virtual one, can assist students in making better decisions about their future. Whether someone is a school-leaver, already in a job, or thinking about switching careers, this is the perfect opportunity for them to engage with FNU during our Open Week."
"Participants will be able to receive all the valuable insights into life at FNU that they would have on a normal open day. Programmes are on offer from FNU's five Colleges, the Fiji Maritime Academy, the National Training and Productivity Centre, and our newly-launched brand – TVET Pasifika."
"I encourage students, parents and guardians to join in our live interactive chat and zoom sessions, enquire about their options and have their questions answered," Professor Wilkinson added.
We invite you to participate in our FNU Virtual Open Week and attend live Q&A and Zoom sessions for the week of the 13th to 17th of September from 9am to 5pm daily. Participants can register early by visiting our website www.fnu.ac.fj and be included in the draw to win prizes. Follow the FNU Social Media pages for further details.