FNU to host March Graduation Ceremonies
Press Release Posted On: March 8, 2023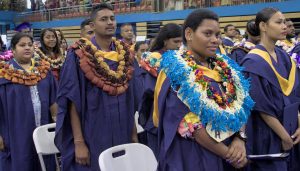 About 1874 students are expected to receive their certificates of qualification from the Fiji National University (FNU) during graduation ceremonies scheduled for this month.
The University's first Graduation event for the year will consist of four sessions at the Vodafone Arena in Suva tomorrow and Friday, 9-10 March. This will be followed by the Labasa ceremony on Tuesday, 14 March.
Students will be graduating from FNU's five Colleges – the College of Agriculture, Fisheries and Forestry (CAFF), College of Humanities and Education (CHE), College of Business, Hospitality and Tourism Studies (CBHTS), College of Engineering, Science and Technology (CEST), the College of Medicine, Nursing and Health Sciences (CMNHS) – the Fiji Maritime Academy (FMA), National Training and Productivity Authority (NTPC) and the NTPC Apprenticeship Scheme.
FNU Chancellor and Chair of Council, Dr Adi Kesaia Seniloli said the ceremonies were anticipated by graduands, their families, and the University community as a time of celebration.
"After years of sacrifice and studies, our students are now able to graduate and rejoice in their academic achievements," Dr Seniloli said.
"The University is proud of our students, who will now go out into their respective communities as ambassadors of the University and make an impact."
"It is pleasing that FNU was chosen as the university of learning that trained and qualified students who will now get into the world and implement the skills, knowledge, and expertise acquired at the University."
Acting Vice-Chancellor, Professor Unaisi Nabobo-Baba added that the graduands varied from Certificate, Diploma, Degree to Postgraduate recipients.
"I must commend each and every student who is graduating from FNU, and I am positive the graduands will succeed in their future endeavours," Professor Nabobo-Baba shared.
"We also have more than 85 regional and international students graduating alongside our local students. 860 of the total number of graduates are female."