FNU to highlight key issues at the Regional Agriculture & Forestry Symposium
Press Release Posted On: March 2, 2023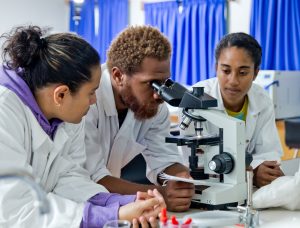 Academics and research students from the Fiji National University (FNU) will be presenting their research findings and sectoral analyses during the Regional Agriculture and Forestry Symposium to be held at the Radisson Blu in Nadi on 7-8 March 2023.
The Symposium, organised by the Fiji Institute of Agricultural Sciences, is an important side event to the broader third Pacific Week for Agriculture and Forestry, which is being hosted by Fiji for the first time.
The University is a proud sponsor of the event, with the Pro-Vice-Chancellor Research and Innovation (PVC R&I), Professor Roland De Marco and College of Agriculture, Fisheries and Forestry (CAFF) Dean, Professor Paul Iji respectively delivering remarks and a paper at the two-day meet.
Research students and staff of the University will also present on issues related to sugar, dairy and coconut industries, soil science and livestock production, and agroforestry, to name a few.
PVC R&I, Professor Roland De Marco, is excited to represent FNU as a sponsor of this important symposium, which will address key issues pertaining to the agriculture and forestry sectors in Fiji and the Pacific Islands region.  He is particularly proud of the involvement of many of the University's academic staff and research students in this informative and insightful forum devoted to regional primary industries.
CAFF Dean, Professor Paul Iji said the symposium would provide a platform for regional partners to gather and discuss issues and innovation for the agriculture and forestry industries.
Professor Iji congratulated Fiji for hosting the Pacific Week for Agriculture and Forestry, following two previous successful events in Vanuatu and Samoa.
He charged the ministries to work closely with the universities and other research institutes in the region, in order for producers to rapidly adopt and commercialise research findings.
"Such collaboration is what has conferred advantages to primary industries in the neighbouring developed countries," Prof Iji said.
Over the two days of the symposium, FNU researchers will present on topics ranging from invasive animal species to the current state of the Fijian sugar, dairy and coconut industries.
Other presentations will examine the micronutrient levels of soils in Vanua Levu; the physicochemical conditions of soils in home gardens; alternative feed resources for pigs and poultry, and the use of some invasive alien species for animal feeding.