FNU students undertake masterclass with Top Fiji Airways chef
Press Release Posted On: May 12, 2023

Final-year Fiji National University (FNU) students were part of a masterclass led by Fiji Airways Premier Lounge Executive Chef Rafaele Galuvakadua on how to create, plate and present meals. This is part of the student practical experience component of learning at FNU.

A proud alumnus of the University, chef Galuvakadua graduated from the institution in 2006 and has almost 17 years of working experience as a chef in many top-notch restaurants and resorts in Fiji.

"The main lesson that we taught the students through this collaboration was maintaining consistency. Consistency is very hard to achieve in every performance, especially in the high-pressure and demanding field that we, as chefs, encounter daily," he said.

"We taught the students the importance of proper preparation, meticulous use of skills and techniques to attain successful results."

There was not an empty table at FNU's Open Dinner Night last week. FNU's Tiri Restaurant served an À la carte menu to the public, where the food was prepared by School of Hospitality and Tourism Studies (HTS) students under the guidance of the Fiji Airways chefs.

The Fiji Airways Premier Lounge Executive Chef said FNU students showed immense dedication and motivation in every task handed to them.

"FNU has modern techniques, the students are very motivated. The lecturers deserve all the praise since they are the ones that inspire the students! They have taught the students here at the school a high caliber of work ethics," the Chef exclaimed.

"It was a privilege to teach these final-year students for the past two days, to use modern techniques with local products. It felt good to be back at FNU, with the students to provide them with the feel of the work environment they will experience upon the completion of their courses- in terms of the rush, consistency, and methods."

"It is a very high intensity field to be in, but it builds your character, and it makes you a better person in terms of your passion for cooking."

"It is about teaching them to motivate them. There are a few students in school, who are undertaking a course for the sake of it, but when the students have reached as far as the final year, it is time for them to understand that they make decisions based on their career ambitions, and not something temporary."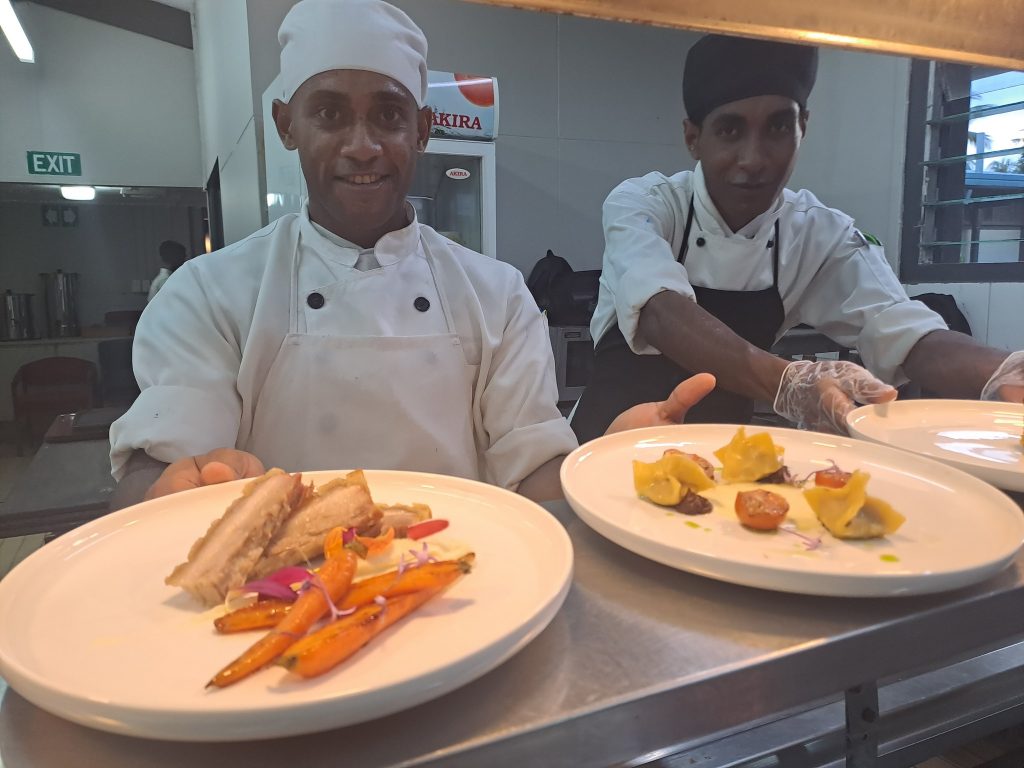 The Open Dinner Night demonstrated FNU's commitment to working with industries to ensure students are competent, skilled, and workforce-ready for all sectors.
Final-year student, Adrian Tomasi said the Open Dinner Night taught him to prepare and present meals in an intense environment.
"The dinner night was very intense. It was the first time for me to do be a line cook, but Chef Rafaele guided and taught me the most efficient ways of preparing meals and then plating them.
"The highlight of my night was making mushroom risotto. It was the hardest dish for me, but I managed to pull through and serve it to the guests."
The 20-year-old from Rotuma, whose passion for food led him to pursue a Diploma in Culinary Art (Level 5) at FNU, said studying at FNU allowed him to experience the demands of the industry.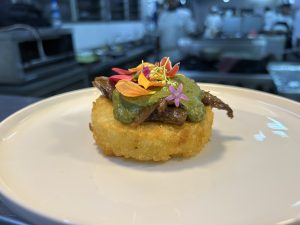 "This is my second and final year at FNU, and so far, it has been great. I have been part of catering services for both FNU and other organisations, and that this has provided me with relevant practical experience," he said.
"I really love it, the environment here is very friendly, and the lecturers here are very helpful."
"I encourage those who have the passion for cooking to pursue a course, especially the culinary course at FNU, as it will help achieve your culinary dreams."