FNU students undertake cleanup activity at Mount Korobaba
Press Release Posted On: November 12, 2021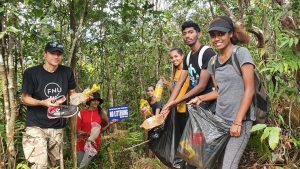 A group of Creative Arts students from the Fiji National University (FNU) recently partnered with the Youths for Integrity Fiji and Transparency Fiji in a cleanup exercise at Mount Korobaba, a popular hiking site outside Suva.
The team from the College of Humanities and Education was led by Jerry Wong, acting Associate Dean TVET-CHE/Senior Lecturer at the University's Department of Creative Arts.
"This project was part of the efforts by our students in giving back to the community. We had noticed that a lot of littering had taken place at the Mount Korobaba and we wanted to assist the landowners to maintain cleanliness at the iconic tourist site," said Wong.
"We had 21 students who volunteered to be part of this activity.  The students were enthusiastic and excited about this environment cleanup project and they were greatly appreciated by the Mataqali Natodre Chairman Tevita Qounadovu," he stated.
Student Timoci Rokotuinasau mentioned that apart from cleaning the rubbish from Korobaba, the students were able to learn essential photography skills in a natural environment setting which was part of their course Introduction to Digital Photography.
"The spectacular landscapes from the mountain top including the wide view of the city of Suva was breathtaking. It was a great adventure for us," said Rokotuinasau.
His colleague, a Certificate IV in Graphic Design student Ravikrant Prasad shared similar sentiments. "It was such a delightful day and I encourage others to help keep the environment clean. Please do not litter."
Shagufa Naz, also a Certificate IV in Graphic Design student said the team collected a lot of plastic materials during the cleanup activity. She has urged Fijian citizens to help preserve the environment.
"I humbly request the public to help keep Mount Korobaba clean and beautiful for the hikers that are next in line. Remember that you can make a difference," said Naz.
The efforts of the students were commended by the FNU Vice-Chancellor Professor Toby Wilkinson.
"This initiative is a fine example of our students working together with the community to care for our environment and preserve it for future generations. And I applaud our students for being wonderful ambassadors," said Prof Wilkinson.
This project is also aligned to the FNU's Strategic Plan 2021-2026, under Climate Change Adaptation, Resilience and Sustainability pledge – working across academic disciplines, and in partnership with national, international and supranational bodies, FNU will harness its expertise to develop cost-effective, scalable solutions that build resilience and help communities, businesses and infrastructure across Fiji and the wider Pacific to adapt to climate change.
FNU has established a Sustainability Initiatives Committee, which will educate, undertake and promote sustainability initiatives across the university in partnership with communities and organisations around Fiji.