FNU signs Education Agreement to provide English as a Second Language (ESL) studies
Press Release Posted On: June 19, 2023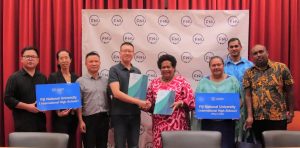 The Fiji National University (FNU) formalised a partnership with Neoteric Investments Ltd to provide ESL, Preliminary and Foundation studies for high school students from China.
FNU Acting Vice-Chancellor, Professor Unaisi Nabobo-Baba, highlighted that English proficiency not only enhanced academic pursuits, but also empowered individuals to participate fully in the global economy, fostering opportunities for personal growth and cultural exchange.
"This auspicious occasion marks the beginning of a promising partnership, where our organisations will join hands to work towards the betterment of both organisations, and the students from China," she said.
"As we navigate an increasingly interconnected world, the ability to communicate effectively in English has become an essential skill for students from diverse backgrounds. However, the journey to English fluency can be daunting for non-native speakers, particularly during the preliminary and foundational stages of language acquisition."
"It is in these critical early stages that this collaborative effort between our organisations can make a significant difference. By leveraging the collective expertise and resources available, we can create a supportive and immersive learning environment that accelerates students' language development."
"In the spirit of unity and shared objectives, our collaboration will encompass a wide range of cooperative activities. This will include mutually beneficial teaching and learning programmes that both organisations deem desirable and feasible."
Neoteric Investments Ltd Chairman, Liang Zhili said the company was grateful to partner with FNU in providing learning services to high school students from China.
"We have many students in China who are very interested in coming to Fiji to learn English as well as further their studies," he highlighted.
"Through this partnership, we will be able to meet their goals and work with FNU as an international institution."
"The first group of students are supposed to begin studies in September this year so that is something we are all looking forward to."
The programme delivery by the College of Humanities and Education (CHE) at FNU will be undertaken at the Namaka Campus in Nadi.
Semester 2, 2023 studies
Interested students can Apply Now for Semester 2 studies via the FNU website on https://www.fnu.ac.fj/student/ or email to admission@fnu.ac.fj
For further information or queries, students can also Text (Toll-Free) to 857 for Vodafone and Inkk users.
Alternatively, applicants can visit any of the FNU campuses to submit applications. Returning students can enrol via the MY FNU Student Self-Service portal.
Classes for Semester 2 begin in July 2023.