FNU reopens for on-campus business
Posted On: February 18, 2022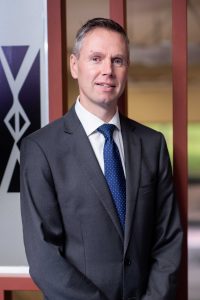 All new and continuing students of the Fiji National University (FNU) are now able to visit an FNU campus near them to complete their admission and registration process.
Following the announcement on 6 February by the Acting Prime Minister, Honourable Aiyaz Sayed-Khaiyum, and the subsequent directive from the Fiji Higher Education Commission issued on 11 February, the University has reopened for business from this week.
FNU Vice-Chancellor, Professor Toby Wilkinson said this would allow new and returning students to visit the Enrolment Centres on campus for their academic needs.
"For ease and quick process of admission and registration, we will have dedicated One-Stop Student Service Centres. The Centre will have staff from different divisions who will be able to assist students with enrolment, I-T requirements and selection of study options," Prof Wilkinson said.
"The following campuses will have these dedicated Centres to serve new and continuing students: Nasinu, Samabula, Koronivia, Ba, Lautoka, Nadi and Labasa."
"FNU's 2022 Enrolment Drive is currently underway and if students require information about programme listing and studying options, they can view our Prospectus by visiting https://www.fnu.ac.fj/study/2021-2022-fnu-prospectus/"
Admission and registration for all programmes are currently underway and as per the current University opening timeline, Semester 1 will commence on 21 March.
Prof Wilkinson also encouraged students to apply for the TVET Pasifika 5,000 placements available via the Tertiary Scholarships and Loan Service (TSLS).
"FNU is a proud dual-sector University, and we recognise that excellent Technical and Vocational Education and Training (TVET) is as important as excellent Higher Education for the future success of Fiji and other Pacific island nations," he said.
"We are also acutely aware, as you are, that TVET is critical to the post-pandemic economic recovery."
"From short courses and trade diplomas to certificates and apprenticeships, TVET enables young people and those already in work to develop the skills, experience and competencies demanded by employers in a fast-changing global economy."
Students completing or have completed Year 12 or 13 have the opportunity to undergo Semester 1, 2022 studies in any Certificate III, Certificate IV and Diploma level TVET course at FNU through the 5,000 TSLS placements.
Students eligible for TSLS-funded studies must have successfully completed Year 12 with a minimum mark of 200/400 or completed Level I and II studies from the Technical College of Fiji.
Meanwhile the Fiji National University Roadshow team will be in Nausori on Saturday 19 & 26 February from 9am to 3pm to assist new and continuing students with their enquiries, provide guidance with programme selection to ensure students have the right information so they can complete their admission and registration process without delay.
For enquiries, students can contact the Academic Team via admission@fnu.ac.fj or call 9555760 or Text (Toll-Free) 857 for Vodafone and Inkk users.