FNU partners with stakeholders to fight antimicrobial resistance
Press Release Posted On: November 22, 2021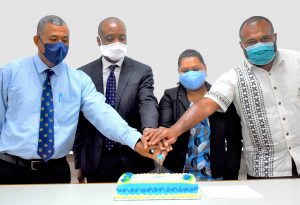 The Fiji National University (FNU) together with the Ministry of Health and Medical Services and the World Health Organization (WHO) officially launched the World Antimicrobial Awareness Week to encourage best practices among the general public, health workers and policymakers, to prevent the further spread and emergence of drug-resistant infections.
Chief Guest and Minister for Health and Medical Services Honorable Dr Ifereimi Waqainabete, while speaking to guests at the event, highlighted that the World Health Organization (WHO), in 2019, declared Antimicrobial Resistance (AMR) among the top 10 global public health threats facing humanity.
"The turn of the decade saw a new terror, the COVID-19 virus, which rose suddenly and spread swiftly across the globe before anyone had the chance to fully prepare. Even when our defenses were up, this new microscopic threat found a way to evade the best of our public health measures against it," said Dr Waqainabete.
The Honourable Minister stated that this has come as a realization and wake-up call, that the microscopic world is still a mystery and if not prepared well, the global population will have to face the consequences.
"We would be hard-pressed not to find in Fiji, or anywhere else in the world, someone whose life or livelihood has not been affected by the COVID-19 pandemic. This virus has been extremely evasive and transmissible. It is behaving very much like how a highly drug-resistant microorganism would behave should we fail to heed the warnings issued by our health professionals," he said.
"The world has now witnessed a real-life model of what would happen if we encounter a multi-drug resistant microorganism and fail to contain it. A worrying trend is sweeping across the world, where antimicrobial resistance is on the rise in hospitals and communities."
World Health Organisation (WHO) Coordinator for Pacific Health System Dr Akeem Ali highlighted that the COVID-19 pandemic has led to increased use of antibiotics, which will ultimately lead to higher bacterial resistance rates that will impact the burden of disease and deaths during the pandemic and beyond.
"Everyone has a role to play, the health professionals, farmers and the agriculture sector, patients, the media, government, and of course, the public. We owe it to our future generations to stop the misuse and abuse of antimicrobial and act against drug-resistant infections, today," stressed Dr Ali.
FNU's College of Medicine, Nursing and Health Sciences (CMNHS) Associate Dean Research Dr Donald Wilson emphasised the role of academia in the fight against AMR.
"We train health professionals at FNU and part of education towards AMR is reminding prescribers about the importance of making accurate diagnoses, following local antimicrobial guidelines regularly, reviewing the need for therapy, choosing appropriate times to collect culture specimens, pharmacists ensuring the education of patients about correct antibiotic dose, duration (whether in-patient or outpatient) and promoting rational use of," Dr Wilson said.
The theme for 2021 World Antimicrobial Awareness Week is "Stewards for the Future: One Region, One Movement to Fight Antimicrobial Resistance"